Last price update: 2023-10-03 16:07:06
I'm sure you have seen a show on television or heard of someone that was pregnant but had no idea until they were far along or they went into labor. You probably thought to yourself, how can you not know that you are pregnant? Well the truth is that each and every woman and pregnancy is different. Although you may live with your head in the toilet and take a nap every day for the first few months of your pregnancy, someone else may not feel even a hint of nausea. It's the curse of pregnancy, but it's also kind of the beauty of this whole baby making thing.

We all get to experience our own personalized journey while our little one is growing inside of us. And do you know what? Each and every experience is okay. (The women who experience the crazy symptoms may think it's not fair, but I promise it is still okay!)

Baby Care
Product: Top Recommended Maternity Belts on Amazon
Quick navigate of content on this page
Pregnancy week 2 through week 5
No symptoms early in the pregnancy
It is very common for many women to find out that they are pregnant during the fifth week of pregnancy. This is the week that you have missed your period, which is a pretty big indicator that you are pregnant. For some, a missed period may be the first sign that you are expecting. Being 5 weeks pregnant with no pregnancy symptoms is okay. Other woman may experience symptoms such as:
Bloating

Morning sickness (which can be nausea that happens anytime during the day, not just in the morning)

Lightheadedness

Cramping

Spotting

Fatigue

Frequent urination

Sore breasts

Food cravings or aversions

Constipation

Mood swings
All of these symptoms are caused by the sudden increase in hormones that your body is experiencing. The funny thing is that they are also all signs of your period coming, so you may not even know that you are pregnant until Aunt Flo doesn't show up to visit you. Think that's untrue? Let me tell you what happened to me.
My husband and I were trying to get pregnant with baby number 3. There are two things in that previous statement that you would think that would increase my awareness of becoming pregnant:
We were actively trying (Which means I should expect it to happen)

This was not my first baby (Which means I know what to expect)
I told my husband the week that my period was due that we weren't expecting because I didn't feel pregnant. With my other 2 kids, I knew right away.  After a few more days passed, my period didn't come so I took a test. What did it say? Negative. I am normally irregular so I didn't think anything about it. It wasn't until a few more days later that my husband said to me "Honey, I really think that you are pregnant, I think you should take another test." (You can only imagine my response to that!) The next day, after I told him that buying another test was a waste of money, he came home from work with a box of tests. And sure enough what happened? It came back positive.  So being 6 weeks pregnant and having no symptoms can even happen to an aware and experienced mom.
So what if the pregnancy continues and you don't feel any different? Don't worry if you are more than 5 weeks pregnant without any symptoms. It doesn't mean anything negative about your pregnancy. Plus, things can change overnight. You can feel great one day and then the next day feel absolutely horrible. That can continue throughout your entire pregnancy too, not just in the beginning. Welcome to the roller coaster of hormones.
If you believe that you are pregnant, but you aren't sure, take a pregnancy test such as these First Response Pregnancy Tests. They can tell you if you are pregnant up to 6 days before your missed period, and provide clear and accurate readings. The sooner you find out that you are pregnant, the earlier you can start doing things to take care of yourself and your developing baby, such as taking these Nature Made Prenatal Vitamins. If you are trying to get pregnant, or if you think you may be, taking prenatal vitamins is still beneficial for you, and won't cause any harm. (They may even make your skin and hair look better!)
No symptoms later in the pregnancy
After the first trimester, which is 14 weeks, many women start to lose all of the symptoms that were making their life miserable. Since the hormones start to level out a bit, nausea usually passes (although some women have it the whole pregnancy), your crazy mood swings tend to get better, and you have a little more energy. At this point, if you didn't know that you were pregnant (let's just say you never had regular periods and so missing your period was not a red flag), then during the second trimester you may only know that you are pregnant if you start to develop a baby bump or feel the baby move.
Most women start to show between 12 and 16 weeks of pregnancy.  This can vary based on a few things:
If this is not your first pregnancy, then you will show earlier because all of your muscles have already been stretched out.

Women who have a uterus that is tilted forward show earlier.

The more muscle tone that you have in your abdominal muscles, the later you will start to show.

Women with longer torsos tend to show later than those of us with short ones.

Ladies that are overweight will show later than those that are underweight.
If you don't show before 16 weeks, please don't panic. If you are 17 weeks pregnant and not showing, it could just mean that your uterus is tilted backwards.  It does not mean that your baby is too small and that you are doing something wrong. There is a picture that I have seen several times of two friends that are only due a few weeks apart but their bellies next to each other is look unbelievable. Take a look at it below. (Photo credit to www.okchicas.com)
If you get until 19 weeks or later and you still have no symptoms, then you still shouldn't freak out. It is common for many moms to be (and not just first-time moms to be), to worry if they don't have symptoms. As much as we hate them, these symptoms are a constant indicator to us that we are still pregnant. People associate not having symptoms with having a miscarriage which is not true. (Read this article about having a miscarriage at 14 weeks for signs if you are concerned.) If you worry a lot, getting a device that lets you hear your baby's heartbeat may be a good thing for you. Try this Wusic Heartbeat Monitor, which has incredible reviews on Amazon. It is safe and non-invasive and can be used in private with headphones, or amplified with a speaker for the whole family to enjoy. This is best if it is used after 16 weeks of pregnancy, just because the baby is bigger and the heartbeat is stronger, which makes it easier to find and hear. It is important for you to understand that just because you can't find the heartbeat, doesn't mean that the baby is not okay. Even doctors sometimes can't find the heartbeat in the office!
Take care of yourself, and try to not worry. (Easier said than done, I know.) Whether you have symptoms or not, someday you will miss being pregnant and being able to protect your little baby from the world. Enjoy your pregnancy!
Extra: Top Recommended Maternity Belts on Amazon
Product
Photos
Last reviews
BUNDLE INCLUDES - your maternity support belt, instructions how to use it, PLUS a baby bandana bib for your newborn and a protective case to use when traveling. The baby bib is 100% cotton, and ...

Available: In stock

I was quite skeptical about wearing maternity support belts with the summer heat coming up. I chose this one because of its light beige color and because it seems to have a more breathable fabric. Since I love to wear light colors in the summer it seemed a perfect fit. I'm loving it!

May 28, 2017

 I am in my 8th month of pregnancy and received this belt last month. I have SPD (Symphysis pubis dysfunction) a condition that causes excessive movement of the pubic bones, either anterior or lateral, as well as associated pain, possibly because of a misalignment of the pelvis. I can hardly stand up for more than 5 minutes at a time before I need to lay down and ret for an hour. I spend most of my time with an icepack between my legs praying for this pregnancy to hurry up. I have always been quick to gain weight during a pregnancy, despite the foods I eat I still end up 2 or more times heavier than the doc's would like, but still 100% healthy. so here I am, deep into my pregnancy, with 40lbs of baby and belly just sitting on top of my pelvic bones. it hurts, and I have tried everything I could think of to stop the pain and allow me to continue my life as much as possible. this belt has been a godsend miracle. it wraps around your belly, reliving so much of that stress on your pelvic area and helps to distribute the weight much more evenly, and its so soft and comfortable against your tummy you forget you're wearing it. with it I am able to stand and wash my dishes (about 30min task) and walk around the grocery stores (about a 3 hour and 3 store task) and not feel like I'm dead afterwards. and I can ALWAYS tell the difference between days I wore it and days I forgot, because the days I forgot end up with warm baths, side laying, ice packs, and painful repercussions the next day. I HIGHLY recommend this maternity belt to anyone in a similar situation!!!!

September 6, 2017

I bought this when I was 30 weeks pregnant and my little one was weighing approximately 4 lbs. As soon as I put it on I noticed a huge difference.PROS:- It helps ease the lower back pain IMMENSELY- It helps ease the round ligament pain- It forces you to have better posture (not perfect but definitely better)CONS- Now that I'm 38 (almost 39) weeks and my little one is measuring close to 9 lbs, there's not much that eases the lower back pain anymore- It shows under tighter clothing. Although I'm in so much pain lately that I really don't care if my bump looks lumpy. It's really not that big of a deal to me.- If you don't put the velcro one side to the other, perfectly, it can dig a bit into your skin. Which is also not a big deal because you can just adjust it until it feels better.Overall I would definitely recommend this product. I find it absolutely necessary in certain situations. Now that I'm further along and HUGE I can't perform certain tasks without my belly band. It really does ease the pain tremendously.

January 10, 2018
Product
Deals
Photos
Last reviews

VIVILALA

THE BEST MATERNITY BELT YOU'LL NEED TO BUY!!!
amazon.com

Last price update: 2023-10-03 21:19:54

I have been going back and forth on buying a maternity belt and am so glad I finally decided to bite the bullet and get it!!! This thing is amazing and I have been wearing it almost daily for a week. I'm 32 weeks pregnant and it has plenty of stretch to grow with me. The support it gives me is absolutely amazing and you can't see it under your shirt hardly at all. ????I put it on backwards, as in put the back on the front so I can correctly position the belt over my belly to the tightness I prefer then switch it to the back (like you would a bra I guess). This also helps align the Velcro so it's not on your back at all. So so so happy with this.

August 21, 2017

I have had this a couple weeks and have noticed it helps a lot with that lower belly pain. I am able to get more done during the day and more comfortable over all. I typically wear a size XL in clothing and this belt fits nice with room to grow. It is fairly easy to conceal, though I wear a thin tank top under neath because the Velcro will sometimes make my back itch. I am very happy with this purchase.

November 4, 2017

I bought this belt for my wife who was 6 months at the time and this belt helped ease her baby bump from hanging so low and heavy it put some type of compression to maintain posture. She liked it and would wear it daily to work where she would walk a lot.

December 27, 2017
Product
Photos
Last reviews
DURABLE SUPPORT: You will be satisfied with the strong support this belt gives to your belly,waist,hips and pelvic bone,hold your stomach firm in place. You will be able to bend, sit and walk with ...

Available: In stock

In the beginning of my third trimester I started to develop mild to moderate symphysis pubis dysfunction pain, especially at night when I would rotate from side to side while sleeping. The pain was significantly less during the day when I was up and moving, but worse at night when I was trying to sleep. This maternity belt is adjustable and allowed me tighten or loosen as needed to provide just the right amount of support to help pull my hips back together and lessen the strain on my stretching ligaments. The only "downside" to this maternity belt is that it is not all that flattering under clothes. I was assume this is the same for most adjustable maternity belts though - the tighter you squeeze the more other tissue is displaced. Imagine a pair of jeans that are too tight and the "muffin top" look. I'm not overweight, 5'7" and pre-pregnancy weight 140 lbs, but when I pull this belt as tight as I like it to help my SPD pain it looks like I'm wearing pants that are a bit too tight. Not a major issue for me, as the pain relief grossly outweighs my desire to look flattering at this point in my pregnancy. This belt is perfectly comfortable for me while standing, sitting or lying down so overall a 5 star product!

September 16, 2016

MUST have to relieve pelvic and back pain related to pregnancy. This belt is extremely comfortable. It's made of soft felt-like material that wraps around the front, while the back has a very flexible mesh weave that makes it super breathable,I LOVE IT!!!

October 20, 2016

I am in my 2nd trimester and think this really seems to help with lower back pain. I can wear it all day at work and it helps a lot when I'm standing most of the day.There are a few things to know:You probably don't want to wear this under super form fitting clothes if you don't want it to show (which I thought was obvious, but I saw some reviews that say it looked funny under clothing, but so far with wearing loose clothing I haven't had any problems).Secondly, this helps with your posture and may not be a great choice if you are wanted to slouch around on the couch, I usually just use my pregnancy pillow in those instances. And the way this belt fits, I can totally see why people don't like it for sitting around the house.The last thing I could see being a possible problem in 3rd trimester is how difficult it makes going to the bathroom (at least with the underwear I've been using... maybe it's just because I've been wearing granny panties since they are super comfy and I'm pregnant and don't care. HAHA)Overall this seems to be a high quality product that does what it is designed to do. My back is very happy I invested in this and it didn't break the bank too much.

April 28, 2017
Product
Deals
Photos
Last reviews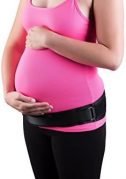 Symphysis

The Symphysis Maternity Belt is your solution for the unrelenting pelvic pain and low back pain of pregnancy. Designed to be worn low across the hips, it provides compressive support of the unstable ...

Start from: $18.96
amazon.com

Last price update: 2023-10-03 21:21:11

I'm 5 months along with my second baby and my SPD has already started flaring up. I tried a different type of support belt that wore out after the 6-8 weeks of use during my first pregnancy and this belt had great reviews on some other websites. I was skeptical by how quickly I would find relief but as soon as it came in I put it on to give it a try. As soon as I had it on I noticed a huge difference! I've been wearing the belt for several days only during the day but it has made a big difference.I no longer waddle with pain and the pain I do experience stays in check in the evening after I take it off. There is still a little discomfort if the band shifts around while sitting but nothing compared to the pain I felt without this. I have found that the belt can shift a bit upwards while sitting at work but I either fix it in the restroom or push it down at my desk so it's sits low around my pelvis.I would absolutely recommend this to anyone with SPD to help relieve pain. I'm already so happy I got this!

October 24, 2014

This product works, simply put. The compression against your hips basically helps hold your separated pelvis together. I have been dealing with severe SPD since I was about 20 weeks while chasing a toddler around, and now at 29 weeks I feel way more functional when I wear this belt. I also LOVE that this product isn't full of straps and it's simple to figure out. I'm giving it 4 stars instead of 5 because there isn't a realistic way to wear it while you're sleeping, which is when I have a lot of pain (flipping from side to side is agony). Also, if you don't wear it all the time, pelvic pain comes back quickly.

March 29, 2016

Bought for pubis symphysis pain at 30 weeks pregnant; my husband's belt basically could perform the same function. I worn it for a day and didn't notice much, if any, improvement. Also, I needed to have it really tight which was fine when standing, but sitting down was uncomfortable under the baby belly.

June 20, 2016