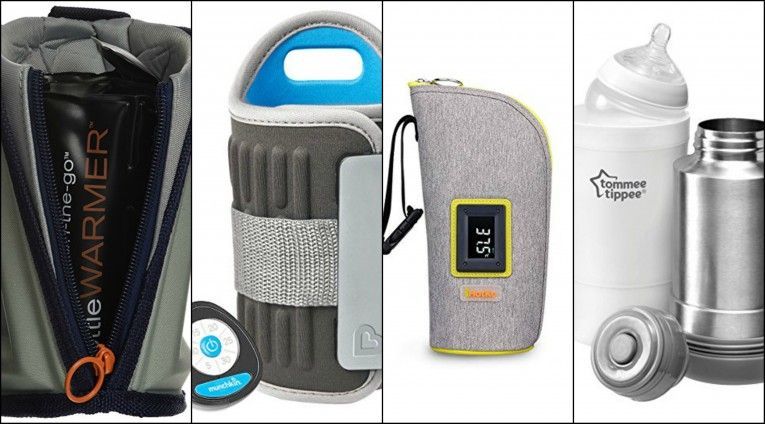 Bottle warmers come in different style and variety. Some of them are only used in the house, as they run on electricity. On the other hand, you can find battery operated bottle warmers, meaning that you can use them even when on the go.

With the battery operated bottle warmers, they offer more than just portability. Other than that, you should consider some factors before making up your mind on which on-the-go bottle warmer is the most ideal.

Baby Care
In the same category: Top USB Bottle Warmers on Amazon
Quick navigate of content on this page
1
Factors to Consider When Choosing a Bottle Warmer
Some of the factors you should keep in mind before buying a bottle warmer include the following:
A
How fast does it warm the bottle?
The warming speed is one factor that will determine if the warmer will be efficient or not. A warmer that covers the bottle with water tends to heat it faster. Some warmers will heat the bottle, but the milk inside will go cold even before the warmer is done, so choose wisely. Most portable warmers will heat chilled milk for around twenty minutes.
Parenting: Nursingpillow.com review, its promo code is a SCAM?
B
Where do you intend to use it?
If you need a bottle warmer that you can carry with you on the go, consider choosing the battery operated bottle warmers. They will be ideal for using in the car or even when traveling. However, they may not be appropriate if you only need to use them in the house.
The ease of use of the bottle warmer is a major factor that you should consider. You will be using it on a daily basis, so it should be easy to operate. In some cases, you will need to warm the milk in the quickest time possible, which means that the bottle warmer shouldn't be too complicated to use.
D
Does it warm the bottle well?
Even though bottle warmers use different methods to heat the milk, you need to choose one that warms well. Some heat the bottle using steam, while in other warmers, the bottle is submerged in hot water. Whichever option you prefer, ensure that it maintains the temperature to keep the milk warm enough.
Seeking for heat resistant baby bottle ? Check out our review on Comotomo baby bottle!
E
Is it easy to clean?
Proper maintenance of the bottle warmer is paramount, so you should consider choosing one that is easy to clean. No one wants a bottle warmer that requires a lot of time to clean. Even though most battery operated bottle warmers are easy to clean, you still need to confirm it first before purchasing.
These are some of the things you must consider as you go out looking for a decent bottle warmer.
Now let's look at three of the best battery operated bottle warmers you should try out.
2
Top Portable Bottle Warmers on Amazon according to me
Prince Lionheart Bottle Warmer
Product
Deals
Photos
Last reviews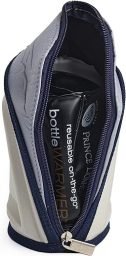 Prince Lionheart

Reusable On-the-Go bottleWARMER by Prince Lionheart is an instant heat source anywhere, warming Baby bottles and Baby food jars while on the go, no power source needed!

Start from: $17.99
amazon.com

$17.99 $49.99

Last price update: 2023-10-04 12:33:06

I hesitated buying this because of mixed reviews but it has really been a lifesaver for me! At home I use a regular bottle warmer but needed something for on the go when I don't have a power source, Like for a trip to the park or zoo.It warms 2-4 oz of cold milk to a pretty warm temperature in 10 minutes! I haven't tried a larger bottle yet. The insulated sleeve helps keeps milk cool if not activated and once activated and warm, keeps milk warm for about 1 1/2 hours. You activate the warmer by clicking a small tab on the pad. You re-activate the pad by boiling it for about 10 minutes, which is slightly inconvenient, so I did order another to have on hand. It's nice to have 1 in the diaper bag and one in the car ready to go if we're out for longer trips. An extra pad is almost the same price as pad + sleeve so I just got another set so that the water-filled pad has a protective case. I have not had any leaks in 5 months of use. The pad + sleeve is bulky and surprisingly heavy but does fit in my diaper bag.It's in my top 10 must-have baby products!

June 12, 2017

I have had and used these for over a decade. I LOVE this thing. It requires a little planning but for those of us that think ahead, boil this little bag after each use (can be boiled moths later) and toss it in the diaper bag for when you need to have some warm baby food or milk or whatever you want to warm up. It takes a little tim to get the cold milk warm but to me I wouldn't be without it. I even bought to incase I need a second warming.Once you "crack" the little tab, the warming crystals begin to quickly grow and heat the bottle it is wrapped around it. The warm time is 15-20 minutes or longer if your milk is chilled.

April 7, 2017

Cool concept but not as efficient as I would hope. We still take this with is everytime we go somewhere but it takes forever to warm, slightly below room temp formula. We use Avent bottles and they do not fit into these things very well. Love the idea but feel it could use quite a bit of redesigning.

May 30, 2017
This stands among the best battery operated warmers you can find out there. With this warmer, all you have to do is place a liquid pouch around the bottle, then press the 'Start' button at the top. After that, the liquid inside the pouch will be transformed into heated crystals, which then heat the bottle.
What's more, you can leave the bottle inside the bag to keep it warm for long enough. The size is small enough, and can perfectly fit in your handbag. The best part is that you can carry it with you as it warms the bottle when you are on the go.
The bottle warmer doesn't take a lot of time to clean it, it is easy to use, portable, and it also keeps the milk warm for a long time. All these aspects make this Prince Lionheart on-the-go bottle warmer a great choice for a warmer. It is also cheap and is built with a sturdy material to last for a long time.
Prince Lionheart HeatPAD bottle Warmer
Product
Deals
Photos
Last reviews
Prince Lionheart

Live free. Eat well. When Baby is hungry. When Baby's rumbling tummy is ready to be soothed with a warm bottle or baby food, push the button at the top of the heat pouch to begin heating it up. While ...

Start from: $15.99
amazon.com

$15.99

Last price update: 2023-10-04 12:33:16

Works well, but make sure you plan ahead and either take the bottle out of the cooler to bring it closer to room temp before activating or pre warm it before activating. Otherwise works great! Warms my babies bottle well and she is picky, if it's not warm enough she will spit it out! Works very well when her feeding time is during church to activate it at the beginning. Does take pretty close to a half hour to bring the bottle to room temp if your bottle is fresh out of the fridge or cooler and make sure you don't keep opening it otherwise the heat escapes and doesn't warm as well.

February 19, 2014

A little confusing at first to use but very easy to have a bottle ready in then set with button and zip up. Fit 4oz Dr Brown bottles easy. The 8oz bottles fit if you gently close with some tug. Yes you have to boil to reactivate it but it's simple to do and easy to use.

December 6, 2016

This is so easy to use and compact to fit in diaper bag. Doesn't make milk too hot (just slightly warm) but need to start it about 15-20 min before feeding. Very easy to recharge as well. We bought 4 packs so plenty for on the go.

June 4, 2017
This is the HeadPad of the amazing on-the-go bottle warmer above. This item is separately sold. It will help you feed your baby even when you are not in the house. It's also easy to use since you only need to bend the metallic disc, which is inside the pouch. After that, the warmer will start heating the bottle instantly. However, you will need to use boiled water for you to use this warmer. The boiled water will activate the heating pad, which will then heat the bottle.
The heating pad should be boiled in water for around 15 minutes for it to start heating the milk. Make sure you allow the water to cool before you remove the heating pad. Well, it might be easy to use, but it will take you around 30 minutes to prepare it for the warming process. It takes an extra 30 minutes to warm the milk, so it might not be the right choice if you are in a rush.
It keeps the bottle warm for long enough, but it may be too hot for the baby to hold. Ensure you follow the instructions of use carefully for safety purposes. Luckily, it is highly portable, and it will not take you too long to dismantle it. What makes this product one of the best battery operated bottle warmers is the fact that operating it is quite easy. Even though it takes longer to prepare and heat the bottle, it can be reliable for keeping the milk warm for long enough.
Munchkin Portable Bottle Warmer
Product
Deals
Photos
Last reviews

Munchkin

When you and your baby are on the go, take along the Travel Car Baby Bottle Warmer from Munchkin. It plugs into your car adapter and warms evenly in minutes, with no hot spots to worry about. A ...

Start from: $24.00
amazon.com

$24.00

Last price update: 2023-10-04 12:33:43

I read the reviews that said it would take 30 minutes to warm. I had a 4oz. bottle warming for 45 minutes and it barely took the chill off. I sent it back. You're better off stopping at a restaurant and asking for a cup of super hot water...or carrying a thermos.

September 15, 2016

Originally purchased this product for a 13+ HR road trip with our 2mo old but was also looking for a day to day solution as well. Finding a place while out and about was getting old quickly.I was super pumped about this product, it's lightweight, easily stays in the car or in my diaper bag. The cord was long enough and was really easy to figure out how to use when I forgot to throw in the instructions prior to leaving for our trip. We used multi bottles and didn't have a proper with any fitting in the sleeve (medela, dr browns, joovy, avent).My biggest concern/issue with this product was the warm up time. I was expecting to wait a good 5-10 minutes, and that with a baby that's ready to eat feels like forever. Needless to say the first go around was a failure and we couldn't find a gas station fast enough for warm water.Through the course of our trip we figured out it takes about 30-45 mins to warm the milk that was in our cooler with ice packs (those that come from medela...and that was only about 4oz of milk). Sadly this will never be our "go to" warmer when we are out and about due to the time it takes to warm the bottles.Hope our experience helps in your journey to finding an on the go warmer!

December 10, 2016

I use this warmer primarily for road trips that are 100 miles or longer (at least 2 hours of drive time) and it works like a charm. There are multiple time settings on the warmer dial that translates to the number of minutes to warm your baby's bottle, in 5 minute increments with a maximum warming time of 30 minutes. The warmer itself is pretty effective and completely warms a 7 oz. Avent plastic bottle in roughly 10 minutes. The bad thing about this product is the craftsmanship of the control unit itself, it is constructed of really crappy plastic and is poorly made. Just by looking at it and touching it, you know it's of really crappy construction. Also how the controller plugs into a 12v socket is a really, really cumbersome design for some vehicle. Have you tried plugging this thing into a 3rd gen 2010-2015 Toyota Prius in either available location (under the flying buttress of a center console or inside the arm rest)?!

December 16, 2016
This also stands among the best battery operated bottle warmers, and it is perfectly designed for use in the car. It means that you will have an easy time feeding your baby when on the road. It is easy to use the warmer, and you only have to place an adjustable band around the bottle. After that, plug it into the car adapter, and it will start heating instantly.
You don't need to have water for the bottle warmer to work. This makes the bottle warmer more reliable, regardless of where you are. The adjustable band has been designed to hold the bottle tightly so that it can warm the bottle evenly. There is also a display on the adapter, which lights up as it heats the bottle. It comes with a low cost and is perfect if you need a cheap and efficient car bottle warmer.
It also has a timer that has a default time limit of 5 minutes, after which the heater will turn off. You can change the setting to allow the milk to heat properly. The fact that this warmer comes with a low cost, small size, easy to use, and doesn't require water, makes it one of the best battery operated bottle warmers you'd want to purchase.
IHOTKU Smart Baby Bottle Warmer Bag
Product
Deals
Photos
Last reviews

iHotKu

Did you know the optimum temperature to brew milk powder to a baby is 104-140℉? This product can keep the temperature at the best temperature.◆Mom's Feeding Concerns Take the baby out,Mom needs to ...

Start from: $69.99
amazon.com

$69.99

Last price update: 2023-10-04 14:23:15

When I bought this, I did not know what to expect. Once we opened it, we realized this came with a compartment bottle for baby formula. Very nice cloth material with the inside being of a foil type material. Once plugged into a USB (I tried it with the wall charger), it starts heating up. We have tried heating the bottle and it works surprisingly well. So we have not tried it in the car yet, but know it will work since it is working at home and restaurants. We now carry a USB plug with this and when we go out, instead of asking the restaurant or party organizers for hot or warm water, we can directly plug this into the wall and have a warm baby bottle within 2 minutes. This product is portable and very pleasing to the eyes. I'd highly recommend this for anybody that is out a lot and has to carry bottles with them for their baby for warming on the go. We have also tried this with a power bank and it does work very well. Great product for on the go with a baby! No more stopping and waiting for unsafe hot water.

January 27, 2018

Works but ok quality

January 18, 2018

I suppose this item would be good if I could have gotten to use it. The touch screen display was broken when I received it. It turns on but screen only displays ERR message. Never even got to use product. Must be a defect.

January 16, 2018
Here's another example of a good on-the go bottle warmer. It's designed with the mother in mind. This bag reduces the number of things that you as a mother will need to carry.  It comes with two modes, a milk mode and water mode. The water mode keeps the water temperature at 45°C. just the right temperature to prepare milk. The milk mode will place the milk temperature at 38°C, a temperature suitable for feeding the baby. The main aim of this device is not to heat the liquid, but to keep it in a warm enough state that's good for consumption.
This battery-operated bottle warmer comes with an LCD screen that you can use to choose between the different modes. You can also choose to switch between Fahrenheit and Celsius via the screen. This device is also quite easy to use and operate. The LCD screen interface is easy to grasp and doesn't contain many settings.
The bottle is also easy to carry around. You can charge it with a variety of chargers. A car charger, power bank and USB interface can be used to charge/operate the device. It works quite well with either of the charging methods. The product also comes with a bonus container that you can use. The container can be divided into multiple parts, so you can use it to store different liquids/baby formulae. The bag is water resistant, but you shouldn't place it in water for very long. On that note, the warmer bag shouldn't be cleaned using a washing machine.
TOMMEE TIPPEE Travel Bottle and Food Warmer
Product
Deals
Photos
Last reviews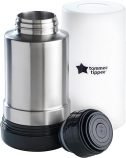 Tommee Tippee

Stainless Steel, Plastic; Imported; Securely stores hot water for warming bottles and food on the go; Specially designed to hold Closer to Nature Bottles; No electricity required, so, convenient for ...

Start from: $18.97
amazon.com

$18.97 $49.99

Last price update: 2023-10-04 14:23:21

This bottle warmer is really a thermos that holds 2 cups of hot water and a very large cup in which to pour the hot water. For travel, the thermos locks inside the cup. I microwaved 2 cups of water for 3 minutes in a Pyrex cup then poured it into the thermos and then locked into the cup. 13 hours later, it was still hot enough to warm a 4 ounce bottle of cold breast milk in a couple of minutes. I would highly recommend, however keep on mid that it's larger than you think and WILL NOT FIT even the large cup holders in your car. My husband loves it because he can easily feed the baby on the go without having to come home to warm the breast milk.UPDATE: After a few months of occasional use, I noticed a couple of rust spots inside of the cup. I always hand washed it with a baby bottle brush. I guess, it's not a big deal since the water never mixes with the breast milk. However, I would caution against using to keep water warm for making formula.

May 10, 2016

I swear by this amazing little travel bottle. I watched my sister struggle at every outing to warm her babies bottles on the go. We would be a restaurants and ask for hot water and a cup to place the bottle in and the food server ( if they weren't a parent) never understood what she was asking for. This travel bottle is amazing I fill it up with my tea kettle before I leave my house and it stays warm all day. I've even used the water more than once!

February 1, 2018

I thought this would be smaller but the size it perfect. You can take it anywhere and it's easy to use, I boil the water keep in in my nightstand, baby is only drinking 2 oz right now so I fill the bottle under an oz of hot water and fill the rest with room temperature water, put in the formula and bottle is ready for baby!

March 7, 2017
Unlike the others on the list, it is not a battery-operated bottle warmer. It works similar to a thermos except the top plastic case can come off on this product. This allows you to place the baby bottle (with the milk) inside it and make it warm. It doesn't require electricity or an external heating source to keep the foods warm. It uses the hot water you place in the insulated thermal container to keep things warm.
The Tommee Tippee Bottle and Food warmer is great for when you're moving around/ traveling with your baby. It's easy and convenient as it can heat foods, breast milk and even formula milk. The product consists of a thermos and a very large cup. All you need to do is to pour boiling water into the thermal container and fasten the lid. When you want to heat up food simply pour the water from the container into the lid. After that, place the bottle into the water and wait for it to warm up.  
The thermos has a secure and fastened lid to ensure that there are no spills when traveling. On top of that, this on the go bottle warmer is BPA free. It's of good quality and safe to use for your baby. Tommee Tippee also adapted a sleek design for this product. It's quite easy to fit it in your baby's changing bag with no issue.  
6. Summary
| | | | | |
| --- | --- | --- | --- | --- |
| | Prince Lionheart Heatpad Bottle Warmer | Munchkin Portable Bottle Baby Warmer | iHotKu Smart Baby Bottle Warmer Bag | Tommee Tippee Travel Bottle and Food Warmer |
| Product Image | | | | |
| Warming Speed | 30 minutes | 5 minutes | 10 minutes | 20 minutes |
| Easy to Use/to clean | Simple, easy to dismantle, easy to operate | Simple, easy to use, only needs to connect to a power source | Easy to use LDC screen, lightweight bottle | Very simple to use, no power source needed, easy to understand instructions |
| Price | $14.44 | $18.99 | $39.99 | $11.99 |
Remember to consider all the necessary factors before you decide to buy any warmer. Also, keep in mind that they are battery operated bottle warmers, so don't expect to use them in the house.
Bonus product: The First Years 4-in-1 Remote Control Bottle Warmer
Product
Deals
Photos
Last reviews

The First Years
Warm a bottle from the comfort of your bed in 3 easy steps! 1) Place Bottle in insulated compartment - Simply put a bottle in the unit before bedtime, the included icepacks will keep it cool for up ...
Start from: $9.99
amazon.com
Last price update: 2023-10-04 06:30:41
Excellent and convenient product. Great customer support as well. One of the frozen packs cracked and they immediately sent new ones. Great company and product works well. It is a lifesaver late at night. Could do without a crappy Kardashian's name attached to it, but can't stop their annoying tentacles from being everywhere.
March 24, 2018
LITTLEWUNZ REUSABLE LIQUID BOTTLE WARMER
Product
Deals
Photos
Last reviews
Directions ---- Wrap the bottle and pull the bands around to enclose. Then firmly bend/snap the metal disc. The solution will turn white, heat up and harden. To return the warmer back to a liquid ...
Start from: $18.97
amazon.com

$18.97
Last price update: 2023-10-04 08:28:25
I've worked in early childhood education over a decade and have nannied several infants. This is one of my favorite ever products! I love how handy and easy it is. It's one of the most packable bottle warmers on the market. Fits easily into any over stuffed diaper bag. Once o accident bumped the metal disc that initiates the warming while it was in my bag but I think that's cause I was tossing the bag around Willy nilly. It brings a fridge cold bottle of milk to around 100 degrees F in under 5 minutes. All my friends who've had babies since I discovered this product have gotten one as a baby shower gift.
July 15, 2018
This bottle warmer is incredible. It's convenient and perfect for the busy mom on the go - or simply for the tired parent who needs to warm a bottle in the middle of the night.It's durable, simple to use - and re-use. It is truly mind blowing!We love ours and I will be giving these as gifts to all my pregnant friends.
March 18, 2017
Update after using it for a few months - I use this warmer every time I have to go out with the baby. It's perfect on the go and super-easy to re-activate; I just boil it wrapped in a cloth and it's good to go! This is a MUST HAVE in every diaper bag!Recently purchased this as a baby shower gift and very quickly realized I needed one for me, too! Excellent product! Good quality -- easy to use, quick to heat up and a total lifesaver for those times you need a bottle on the go. A+++
March 1, 2017
Directions
Cover the bottle and enclose the bands around.
Then firmly distort/snap the metal disc. The solution will turn white, heat up and harden.
To return the warmer back to a liquid state, please check the steps below.
To Reactivate
Wrap the warmer pouch in a washcloth and then fully immerse in boiling water and boil until the solution becomes completely clear (about 10-15 min).
Do not allow water to boil dry. Alternatively, place warmer pouch in a non-microwavable steam sterilizer for one cycle. Make sure about cooling completely before using.
/!\Warning
Do not tear pouch.
Do not put it into the microwave.