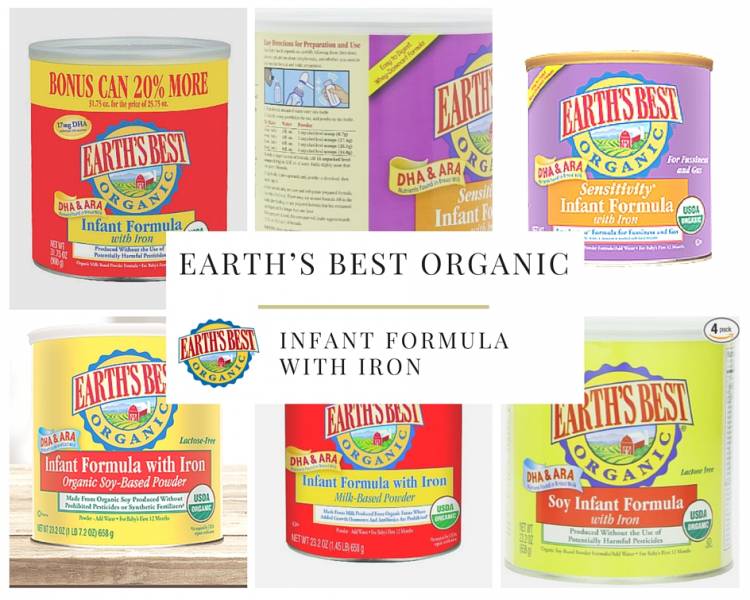 1
Milk Based Baby Potion With Proper Iron For The Best Care Of Your Baby
With those little giggles you meet with new responsibilities that you never dealt with before. Parenting is such a phase where you need to take care of the baby thoroughly and assuring the best food products is one of the best way to ensure your duty. There are many products available in the market that contains all the important nutrients that your baby may need. Having a clear view will solve the dilemma of choosing the proper food.
HOT Topic: Harvard Professor Warns Against Coconut Oil
Here we will discuss about the Earth's Best Organic Infant Formula with Iron which can be a great choice for your baby.
Introduction:

The first thing we all have to agree is the breastfeeding is the best solution for you baby (1-6 months old). If you have enough of breast milk, you can skip this article. (FYI: In the case when you have a lot of breast milk and your baby can not take it all once, let's check out how to store it and keep it in the best conditions with the Lansinoh breast milk storage bags).

Back to our product: this is one of the best baby product available in the market that serves exactly the same purpose as that of the breast milk due to its unique chemical composition. It makes you baby grow faster and the immune system get stronger while having all the required fatty acids properly. This is probably the best baby food for your baby during the first twelve months.

2
Product features:
First of all we will look into the nutrient present in the product and that will decide whether it could be used as baby food or not.
Ingredients:

This is one organic product so most of the ingredients that found in this baby food are organic in nature. We find minerals whey reduced organically, vegetable oils which is also organic like coconut, soy, sunflower, high oleic or palm oleic etc. along with lactose and nonfat milk both organically extracted, docosahexaenoic acid or crypthecodinium cohnii oil in less than 1%, arachidonic acid which is also known as mortierella alpine oil, sot lecithinetc. We find some familiar minerals as well like calcium chloride, calcium hydroxide, ferrous sulfate, cupric sulfate, potassium bicarbonate, manganese sulfate, potassium hydroxide, potassium chloride, sodium citrate, potassium iodide. For more information from the manufacturers click on the link below
Product
Photos
Last reviews
Earth's Best Organic Infant Formulas with DHA

Available: In stock

I'm a chemist and, interestingly, I've worked with the removal of hexane from powdered formula. Hexane evaporates much quicker than water (almost twice as quick) and when we put formula under air pressure via a vacuum seal, the water and hexane evaporate. If your baby formula is completely lacking liquid (which it is) when you open it, there is basically no chance of there being any hexane in it. If there is no water, no chance of even trace amounts of hexane being left. If quality control is bad and some how the formula is contaminated with hexane, you may get very trace amounts of it that are so insignificant that it basically has no affect on the body. Something like less than 15 parts out of a billion. My wife's milk production has decreased so we will be supplementing with this formula. Don't let hexane scare you. There are much more toxic aspects of your baby's environment than formula which contains DHA extracted with hexane.

January 28, 2016

To be honest, I have never written a review, not matter how good or bad a product I received was. I never had the time and never bothered. Today, I write my very first review of a product that I have been feeding my precious son since birth. He is now 2 years 4 months. I could never breastfeed him exclusively due to bone density loss and I did massive amounts of research and tried out tons of different brands before deciding on this organic formula from Earth's Best and since then, even though he is now a toddler, I still use the Earth's Best infant formula and supplement with other child vitamins.I was trying to re-order again in bulk from Amazon when I noticed for the first time the controversy over DHA/ARA extraction by the use of toxic hexane of which Hain Celestial which manufactures Earth's Best is guilty of. To understand my utter complete fury, you must know that I live in Singapore and I quite literally pay international shipping for every can of this formula (and wade through customs declarations, tests and tax levies) to bring this milk to my son. In Singapore, this can of milk is also available but in highly limited quantities and even more princely prices (yes, even after the tax, customs and shipping, it still costs less than US$68 which is the going price per can here). Calls to Hain Celestial customer service drove me further up the wall when first, a lady said the hexane was only in trace amounts and less than what the FDA approved. Then, reaching another lady an hour later, the story was different. She said that the hexane solvent method was the only method approved by the FDA to extract the DHA/ARA from non-toxic algae and soil fungus.Read more ›

January 9, 2010

Organic Consumers Association Sues Two Infant Formula Makers for Falsely Labeling Products Organic."The lawsuit against Hain Celestial alleges that the company's Earth's Best brands including Organic Infant Formula, Organic Soy Infant Formula, Organic Sensitivity Infant Formula and Organic Toddler Formula are all falsely labeled organic because they contain a spectacular array of ingredients that are non-agricultural and non-organic, all of which are prohibited under OPPA. For example, of the 48 ingredients in Earth's Best Organic Infant Formula alone, more than half violate USDA Organic Standards."

April 28, 2016

Usage:

The pediatrician will direct you on how to use this product. The most common way is to use it with water. Pour the water and boil it. The manufacturers will provide with a scoop. Using that you can mix the power with the water. Stir well and put it in a bottle to serve your baby.

On the other hand, you can pour the hot water in a bottle and mix the power. Shake the bottle vigorously until the powder gets dissolved. Give the bottle to your baby.

The amount will vary from baby to baby and the doctor will help you to calculate that for your baby. In case you need any large amount of solution then put 16 oz powder in 32 oz water and make the mixture.

3
Additional information:
The product is so manufactured that there is scope of interference of any kind of allergens or unwanted particles. They recommend strictly not to use microwave heating as that can cause severe burn damage issues.

The product is reported to taste like metal or fishy sometimes. The flavor may influence the taste as well. The expiration date is around three years from the manufacturing date. The canister and the lid is not BPA free and may cause some spitting up problem in case of some babies. If your baby doesn't response against this product positively consult with doctor and switch to some replacement.

4
Why choose this product?
Benefits:

Earth's Best Organic Infant Formula with Iron contains DHA and ARA that are two most important element for the baby's growth be it mental or visual. They are made of carbohydrates, minerals, vitamins, essential fatty acids like omega-3 and omega-6. All these helps the baby to have a healthier growth and better immune system. The elements are all organic which is easily trusted in case of babies.

Pros &cons:

We have discussed almost all the important details about this baby food. There are some drawbacks as well. Before buying this lets have a look on the pros and cons.

PROS:
Organic product.
Contains iron.
All required fatty acid are present.
Best replacement for breast milk.
Microwave friendly (with this comoto baby bottle)
CONS:
Sometimes its taste is questionable.
Some babies may throw up drinking this.
5
Conclusion
Considering all the components being organic and all the necessary nutrients like DHA and ARA present in the mixture, it becomes one of the best milk based powder available in the market. Choosing this product will be wise based on the benefits on health, growth and immune system but you need to consult the doctor first.
This is the all the information you need to replace any other baby food with Earth's Best Organic Infant Formula with Iron. Ensure an enhanced growth for your baby and it will pay his/her in the long run. You can place your order here:
Product
Photos
Last reviews
Earth's Best Organic Baby Food Jars are available in unique combinations of fruits, veggies, meat and wholesome grains. Pick the appropriate texture and ingredient based on your baby's age: Stage 1 ...
Available: In stock
I am so disgusted! No wonder my baby girl didn't like this crap! Expiration date is Nov 2017, cap was sealed (button not popped) and it's moldy!! I am so angry.
September 16, 2016
I'm only giving two stars because this is the first item I've ever had issues with. Out of 12 jars, two had the seal broken. This could have been missed very easy, but being an avid canner I noticed the lids poping right away. This worries me being baby food, and not one but two. Amazon did refund me the cost of two jars. I still hope everyone's careful and double checks the lids before opening.
January 13, 2015
When I purchased this pack, I thought that being organic, these foods would also be similar to the organic Beechnut foods I have been feeding my daughter where the ingredients are just the vegetable itself with nothing else. I was wrong since these foods have things like water and ascorbic acid and was very disappointed when I received these! The foods don't smell good or even look like the actual colors that they should (for example, the sweet potatoes were a very light/pastel orange and a different texture). My daughter didn't want to eat any of these (she is the same way with the fruit pack as well) so I have wasted money on these. I will definitely stick with Beechnut foods from now on!
December 7, 2016