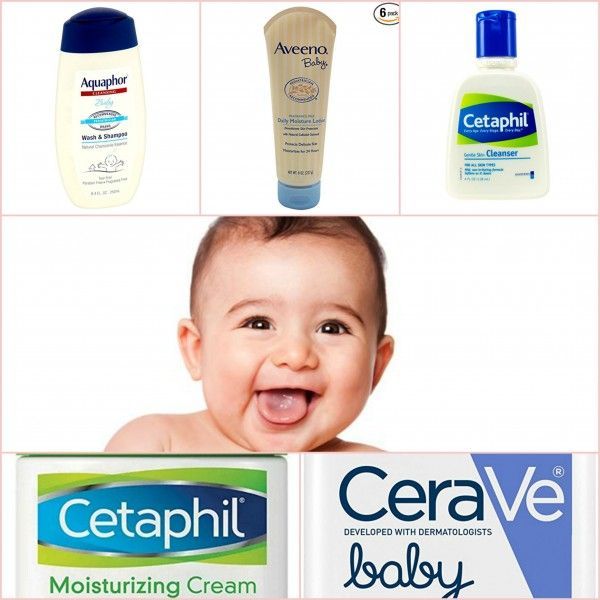 According to AAP (American Academy of Pediatrics): "Managing the Eczema in babies can include an action plan for families that includes recommendations on frequency of bathing, prescription medications, moisturizers and antihistamines."
Quick navigate of content on this page
Product: Top 5 Sunscreen For Babies With Eczema
Babies have very sensitive skin. One of the most frustrating things you can deal with when it comes to your baby's skin is eczema. It's a type of skin condition which occurs in babies even from infancy. Until now, there's no definite cause for eczema. So, it's quite challenging to think of ways to prevent it from happening.
Parenting: Check out my full article on Eczema in babies!
Fortunately, there are top baby eczema products out there which you can use on your baby. Let's take a look at these products and all the features they have:
CeraVe Baby Lotion
CeraVe Baby Lotion 8 oz with Essential Ceramides and Vitamins for Protecting and Maintaining Baby's Delicate Skin
$7.99

Developed with pediatric dermatologists, CeraVe Baby Moisturizing Lotion is formulated with 3 essential ceramides (ceramide 3, ceramide 6-II, ceramide 1) and is free of parabens and phthalates for a ...

Available: In stock
The CeraVe Baby Lotion moisturizes the skin which may help relieve eczema. It contains 3 types of ceramides as well as vitamins. These will help maintain and protect your baby's delicate skin. The lotion moisturizes for up to 24 hours. This means that you don't have to keep on applying it throughout the day. It's completely fragrance-free to prevent any irritation.
This is one of the best products out there as dermatologists helped develop it. It's patented formulation helps restore and moisturize your baby's skin effectively. This lotion has the seal of acceptance from NEA, which means it's ideal for babies with eczema.
Pros
         Moisturizes, restores, and protects your baby's skin.
        Free of sulfates, parabens, phthalates, and fragrance.
        Developed with the help of dermatologists.
Cons
        Some components of the cream may cause irritation in some babies.
        Not helpful for rashes.
Conclusion
As far as lotions go, this one is great because it helps soothe eczema. Most lotions don't do much for baby's skin. But this one's different. You'll get your money's worth with this product. It will help moisturize and protect your baby's skin from the skin condition.
Same topic: Brief Guidance on Different Types of Eczematous Dermatitis
Cetaphil Gentle Skin Cleanser
Cetaphil Gentle Skin Cleanser, 4 Ounce (Pack of 3)
$29.84

INDICATIONS:Cetaphil gentle skin cleanser for all skin typesThis gentle, soap-free cleanser was originally formulated for dermatologists, specifically for everyday cleansing of even the most ...

Available: In stock

I see a lot of mixed reviews about how great this product is, or how it used to be great and now the product feels different, or how it's terrible and people don't understand the great reviews. It is easy to miss that there are TWO formulas of cetaphil face wash. There is a daily facial cleanser and a gentle facial cleanser. There is no distinction in the packaging except the one word - daily or gentle. I have accidentally purchased the gentle cleanser so many times because it's the one usually on amazon and I miss the slight difference in the labeling. The daily cleanser is fantastic. It removes all your make up and leaves your skin feeling fresh, not overly dry. The gentle cleanser barely removes anything and feels like a slimy film. If you find that you are having a bad experience with your cetaphil, check which kind you purchased. I usually have to get the daily cleanser at my local drug store since it's rarely on amazon. But it's worth it. Try it and you'll see the difference.

January 19, 2017

Doesn't remove makeup. Seems to do nothing once so ever. Do not confuse this Gentle Skin Cleanser with their Daily Facial Cleanser (which is amazing).

August 27, 2017

I'm going to keep this concise as possible, this product is 110% different from the facial cleanser formula. I originally have had minimal breakouts with cetaphil, but after using this specific "gentle skin cleanser" once, I immediately have a huge break out. If this cleanser works for your skin type stick with it, otherwise search for the specific variant "FACIAL cleanser."

August 18, 2017
This product will cleanse your baby's skin while keeping it soft. With the Cetaphil Gentle Skin Cleanser, you won't have to worry about your baby's natural oils. This will moisturize the skin and gently relieve dryness or eczema. It has a special formula which is gentle enough to use every day. Also, using this won't leave any residue which may cause irritations on your baby's skin.
This is another excellent product as it's from Galderma Laboratories. It's one of the biggest benefactors of the Dermatology Foundation. It's formulated by dermatologists who know exactly what the skin needs. It's a great choice for adults and babies with skin conditions such as eczema.
Pros
         Ideal for different skin conditions because of its ingredients.
        Clinically-proven to be less irritating than other soaps out there.
        Doesn't strip the skin of its natural oils which provide protection.
Cons
        Doesn't produce much lather.
        Not suitable for very sensitive skin.
Conclusion
Cetaphil Gentle Skin Cleanser is a great product as it won't cause irritations to skin. Because of its components, it's suitable for different skin conditions, even eczema. But it's still gentle enough for everyday use.
Aveeno Baby Eczema Therapy Moisturizing Cream
Aveeno Baby Daily Moisture Lotion, Fragrance Free, 8-Ounce Tubes (Pack of 6)
$41.94

Aveeno Baby Daily Moisture Lotion contains natural colloidal oatmeal blended with rich emollients that soothe and help protect your baby's delicate skin in a gentle way. The naturally nourishing, ...

Available: In stock

Happy with the product, great customer experience!

July 23, 2017

This is our go to lotion for my baby.

January 6, 2017

2nd order and It is indeed a very good price.Lotion is great! It works well with people who have eczema problem!I keep one tube in the car, one at work, one in gym bag!Works all around.

May 21, 2013
The Aveeno Baby Eczema Moisturizing Cream is one of the best products for baby eczema out there. It helps relieve dryness and eczema. It's clinically-proven to alleviate the condition of your baby's skin. It moisturizes the skin intensely and helps prevent the conditions from reoccurring. It's made with a special formula which is ideal for babies as it's gentle and soothing.
This cream comes highly recommended by dermatologists. It contains colloidal oatmeal which really helps for eczema therapy. It also contains essential lipids and ceramides which naturally occur in the skin. This product can help restore your baby's natural protective functions.
Pros
         Has a special gentle formula which you can use to ease your baby's condition.
        Contains colloidal oatmeal component to soothe your baby's skin.
        It's clinically-proven to help relieve skin irritations and itching caused by eczema.
Cons
        May cause rashes in some babies.
        Some customers claim that the cream is a bit watery.
Conclusion
The manufacturers made this product with a gentle formulation. It's safe enough for baby's skin and can help soothe eczema and dryness. It relieves itching and other skin irritations caused by the condition. It contains special ingredients. These will help restore and protect your little one's skin.
Aquaphor Baby Wash & Shampoo
Aquaphor Gentle Wash & Shampoo - 8.4 fl oz
$50.84

2 in 1 formula. With soothing chamomile and provitamin B5 for healthy skin and hair. Gently cleanses with no tears. Pediatrician recommended. Your baby's delicate skin and hair can become dry and ...

Available: In stock
Perfect for those with very dry hair and scalp. No harsh chemicals.

September 5, 2017

Baby and I are allergic to several other washes that either have excessive fragerances or ingrediants, but have found that this one is perfect!

February 4, 2017

I bought this for my daughter due to the doctor recommending me this for her since she has exzema. I found that she would still be itching after taking her a bath with this.

July 8, 2013
This 2 in 1 product will provide a solution to your little one's eczema. It will gently cleanse your baby's skin and scalp without causing dryness. The Aquaphor Baby Wash & Shampoo contains chamomile essence and panthenol. These can soothe your baby's sensitive skin. It has a mild formulation which means that you can use it on your baby every day.
This product is commonly recommended by pediatricians because of its properties. It's clinically-proven to be gentle with your baby's scalp and skin. It can help cleanse and hydrate the skin to relieve eczema. Also, because of the formula, it won't cause any dryness and itchiness.
Pros
         Recommended by pediatricians.
        Gently on your baby's scalp and skin.
        Has an extra-mild formula to cleanse and soothe the skin.
Cons
        It's not fragrance-free.
        May cause rashes in some babies.
Conclusion
The Aquaphor Baby Wash & Shampoo is a pediatrician-recommended product. It has a gentle formulation which will cleanse your baby's skin and scalp. You can use it to help alleviate the effects of eczema. Use this whenever you give your baby a bath to see the results.
Parenting: When can you put lotion on a newborn dry skin
Cetaphil Moisturizing Cream
Cetaphil Moisturizing Cream for Dry/Sensitive Skin, Fragrance Free 16 oz (Pack of 2)
$29.90

Intense and lasting moisture to replenish sensitive, dry skin — great for eczema-prone and very dry skin; Clinically proven to provide immediate, long-lasting hydration that soothes dry, itchy skin; ...

Available: In stock
I'm going to review two products.Bit about me, I'm nearing my 40's, dry to normal skin, live in Wisconsin where the winters dry out my skin and summers make it normal.CeraVe: moisturizing cream (normal to dry)my first tub.When you open this product it looks shiny & slimy (at least to me). When applying it feels very tacky, doesn't go on smoothly and I feel I have to use more product (compared to cetaphil)It drys very fast and you can't even tell you put it on. Skin is well moisturized with no lotion feel to it. I like to use this on my face under makeup and under my fake tanner. It works great! My skin feels well moisturized all day long with this product.Update june 2017. So I still agree with above but I would breakout once in a while. I chucked it up to being a mom, stress, kids. I've stopped using it on my face and I now hardly ever break out. I'm not positive if it's the product but I don't love it as much as cetaphil and once I've used it up will not buy it again. Give 3 stars.Cetaphil: moisturizing cream (dry & sensitive skin)my second tub. (Well I need to buy my 3rd tub)When you open this you can tell it's very very thick & creamy. The texture is creamy & greasy. A little bit will go a long way. When applying it's easy to keep spreading it. It gives my skin a glow to it. I love how it looks on my body. This has been my go to summer moisturizer. It gives that dewy look. I do feel my makeup will not last as long but I still like to use it on my face.I ran out of this in spring and got CeraVe but felt like something was missing. I'm on my second tub now.June2017 update: still love it and need to order my 3rd tub...I can see pros and cons to both. A manly man may not like cetaphil (or maybe) or you may not like the slight greasy feel of it well working with hands or outdoors.With my dry skin I love it. It makes your skin look healthy & glowing. A little goes a long way.

April 29, 2017

The moisturizing cream really seems to be helping, even on my scaly legs! I haven't used the wart stick yet.

December 2, 2016

If you have dry skin this is the moisturizer for you. Not sure I would recommend this for an individual with normal to oily skin as it provides a lot of moisture

December 26, 2017
This cream is totally fragrance-free and provides intense moisturizing properties. It can help replenish dry skin, sensitive skin, and even eczema. It has a non-greasy formula which gets absorbed by the skin quickly. It provides a long-lasting relief for different skin conditions. It doesn't contain any components which may cause irritation to your baby's skin.
The Cetaphil Moisturizing Cream has a formulation that's clinically-proven. It works on dryness and other skin conditions. It contains humectants and emollients which can attract water to the skin. This is important to prevent any loss of moisture. Using this cream will help give soft and smooth skin.
Pros
         Provides moisture to the skin making it ideal for dry and eczema-prone skin.
        Clinically-proven to soothe the skin by hydrating it.
        Made with a unique formula which attracts moisture.
Cons
        The consistency is a bit too thick.
        It's quite expensive.
Conclusion
This cream is another superior product. It's specially-formulated to relieve dryness and skin conditions like eczema. It moisturizes the skin intensely, therefore, making it ideal for eczema-prone skin. It provides long-lasting relief and protection as it keeps the skin moisturized always.
Product: Top 5 Must-Have Noisy Sound Books for Toddlers
Main Conclusion
As you can see, eczema doesn't have to remain as a problem. There are different products out there. You can use them to treat the condition and soothe your little one. The CeraVe Baby Lotion can help soothe eczema as it moisturizes and protects the skin. The Cetaphil Gentle Skin Cleanser is a gentle product. You can also use this if your baby suffers from eczema. Because it's made with a gentle formula, you can use this every day.
The Aveeno Baby Eczema Therapy Moisturizing Cream is another gentle product for babies. It can help soothe skin dryness and eczema. It can also help relieve itching and other irritations on the skin.
The Aquaphor Baby Wash & Shampoo is a pediatrician-recommended product. You can use it to cleanse your baby's skin and scalp to relieve the effects of eczema. Finally, the Cetaphil Moisturizing Cream is a product which intensely moisturizes skin. This is a great feature to treat or reduce eczema.
We can say that all these products are must-have baby eczema products. This is because they specifically target the condition. So, if your little one suffers from this condition, you can try them out!