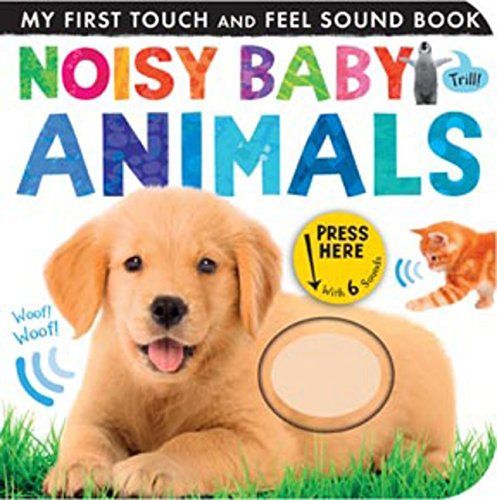 Don't underestimate what your little child is capable of. Often times we feel that they're too young to understand to get involved. But the fact is, children listen, they learn fast, and they want to get involved.

Top roduct: Best Trainer Sippy Cups For Baby on Amazon

Objects presented to them which they can manipulate will certainly arouse their interest. There are baby books available today with such features. These can encourage your child to be part of the narration. They can also teach your little one how to interact with their environment.

The first few years of a child's life is the time when brain development is fastest. Take advantage of this by giving the best books which can develop early learning skills. There is a great variety of baby's books available now and it will be up to you what book would be best for your child. In this article, we'll go through the top must-have noisy sound books for toddlers (books with sound buttons). Read on!
In the same category: Need a great gift for a baby shower? Get a Flappy Elephant!
Factors to consider when choosing a Noisy Sound Books for Toddlers (books with sound buttons)
There are several factors to consider when choosing baby books for your child. Educating the child through books is the most important goal. Through them, you can encourage your child to get more involved. Here are some factors for you to think about:
1. Is it appropriate for your baby?
There is a good reason why books containing rhymes and repetition are very popular. Often times, their reaction to this is predictable. Rhymes and repetitions can hold the baby's interest. Present them with these kinds of books and watch how attentive they become.
They'll listen and would want to be part of the reading process. Fortunately, these noisy baby books are appropriate for a variety of different ages. Babies, toddlers, and preschoolers would surely appreciate them.
Parenting: Toddler spits out medicine, best way to crush pills
2. Does it offer a variety of topics?
Children will always have their own favorite book. One which they enjoy reading over and over again. There's nothing wrong with that. But, also try to expose your child to a variety of books with different subject matters. On fairy tales, for example, the child favors fairies. Make introductions to dragons or pirates and build interest on new subject matters. If the child catches on, reading other books will be as interesting.
3. Can you relate the book to your child's life?
Children are naturally gifted. They talk about things that they experience every day. Giving your child books, he/she can relate to is a lot more interesting. Associating the things in the book with something in their environment. This will arouse their interest, especially for smaller kids and babies. A picture of an animal against one of your pets will allow your child to make the connection. There is a multitude of things in books that can relate to your child's personal life.
Editor's suggestion: See how to teach your baby to walk!
4. Is it interesting enough to your little one?
What would make a book interesting for young children, especially toddlers and babies? Brightly colored pictures of objects will surely take a top spot on preferences. Also, the young ones will definitely respond well to simple texts, good rhymes, and some sounds.
There are also wordless books. These can be stimulating to your child both visually and mentally. They can encourage your little one to create his/her own stories. Choose board books or cloth books for their durability. This is also an important factor with children.
Product: Baby Trend Stroller Review
Our Recommendation: Top 5 Must-Have Noisy Sound Books for Toddlers
1
Noisy Baby Animals Board book
This is an interesting baby book from start to finish. It features familiar animals that your baby will soon get acquainted with. It has a lovely touch-and-feel element that can stimulate your child's eyes, ears, and touch.
Press an animal and hear it make its natural animal sounds for toddlers. It abounds with many pictures and words. They will help develop your child's speech and recognition.
This sturdy book has everything a child could want. Baby animals are always a favorite. The touch-and-feel feature of the book allows your child to experience it using most of the senses. Your little one can learn what the different animals look, sound, and feel like in real life.
Parenting: Potty training, how to help your toddler making progress
2
Noisy Farm Hardcover
Being hard-covered, this child's book will last for a long time. Animals included here are uniquely rendered in exciting and engaging pictures. It also comes with appealing textures. This will certainly encourage young readers to explore with enthusiasm. Your child will learn the world of farm animals in a more realistic way.
Barn animal sounds may already be familiar. But hearing their sounds in the book will surely draw interest and laughter from your child. The book will bring your child closer to the animals. Your child can pat the cow, learn that the cow feeds on grass, and hear the cow say "MOO."
The real photographs and textured spots make the experience more life-like. Children will truly love the sight and feel of the experience. With this sturdy book, the barn will not be so far away from the children.
In the same funny category: Luvable Friends Towel with Cute Animal Face Review
3
Noisy First Words Board book
This is another sturdy book that offers a feast for the senses. This book concentrates on the child's first words. Every page of this interactive, sturdy board book has engaging pictures. They also come with tactile textures and spoken words.
All these can help your child develop a simple vocabulary. Your child can use the senses of touch, sight, and hearing to experience the book's contents.
It seems very intimidating to teach your little one his first words. Fortunately, there are fun books such as this one to help you out. With this book, you can teach your child some basic words in a fun and interesting way. You can even play games with your child to make the experience more enjoyable!
Reccommendation: Must-Have Products when your Baby has Eczema
4
Noisy Trucks Board book
The sound of toy trucks is already enough to stimulate your child's interest in this book. They will find engaging and exciting pictures on every page. They can touch-and-feel each truck. And there is an added bonus too. A surprise sound button when press hard will sound-off the real noise that the truck will make!
This touch-and-feel feature, colorful pictures, and the sounds make this book very enjoyable. It will give your child a chance to explore the exciting world of trucks.
This book contains different kinds of trucks, be it a fire truck, a cement mixer, and others. With it, parent and child can now feel, see, and hear them in the comforts of home.
Parenting: How to take care of your baby in fever
5
Noisy Dinosaurs Board book
You can now even travel back in time to the age of the dinosaurs with this book. On each spread of this interactive book are dinosaurs that your child can touch, feel, and hear. Fun facts about these amazing creatures are also included in each page.
Textures, dinosaur noises, and illustrations add to the fun and educational experience. Dinosaurs always draw the attention of the young ones. Just a glimpse of the cover and your child will exactly know what he is getting – dinosaurs.
The book features that touch-and-feel experience. It also features dinosaur sounds as an extra bonus. On each page, you'll find a sensory patch which when touched, will activate a dinosaur sound. How's that for a total experience?
Parenting: How do I know if my baby has colic?
Conclusion
Noisy sound books are not just a fad. They are educational and as important, they are fun. Toddlers book features are often aimed to draw the child's attention. They also help facilitate the evolution of your child's learning skills. Remember the factors and take them into consideration when deciding what book to buy. You and your child will find it easier to achieve the numerous goals set for your child's development.

amazon.com
In stock
Last price update: 2023-10-04 11:15:49