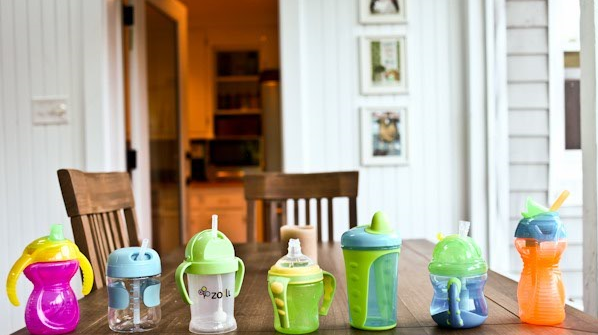 As your child grows through the breastfeeding period, you will need to consider purchasing a sippy cup. Ideally, you should introduce the sippy cup when you start giving the child solid foods. So when you are out looking for the best sippy cup for breastfed babies, you'll need to highlight some factors.
Also in top: Best Trainer Sippy Cups For Baby on Amazon (not only for breastfed one)
Quick navigate of content on this page
Choosing The Perfect Sippy Cup For Your Baby
In most cases, the child can be picky when it comes to the sippy cup. Maybe it's the color, the size, or something else. To make things easy, here are some tips to help you find the right sippy cup for your baby;
Choose one with a good spout design. The spout design should resemble your breast. The baby will want a sprout that is soft and wide. For that, choose one made of silicone, and ensure that it is soft enough. Keep in mind that some babies deserve a hard spout sippy cup.

The material of the cup. The material matters a lot if you want a durable cup, based on the child's handling. Always go for a strong cup that can withstand drops and knocks.

Does it have handles? Ideally, choose a sippy cup with handles so that the child can learn how to drink independently. Check that the handles have a strong grip to avoid slipping.

Is it easy to clean? Any mother would want a sippy cup that doesn't require a lot of time to clean it.

Does it have a straw? Choosing sippy cup with a straw gives the child an easy time and also limits the mess created. There are several

weighted straw sippy cups

that come with a decent price as well.
Above all, decide if you need a leak-proof cup that can minimize the mess around the house. The color and design of the cup is also a factor to consider.
Editor's suggestion: Baby Bottle Comotomo Baby Bottle Review
Top Sippy Cups for Breastfed Babies based on user reviews
Munchkin Miracle 360
Product
Deals
Photos
Last reviews

Munchkin
Let's face it: toddlers are a messy bunch, especially when first navigating Sippy cups. Now imagine a world in which drinks didn't spill at all - not in your diaper bag, not on your furniture, and ...
amazon.com
Last price update: 2023-10-04 07:21:56
My husband ordered this for our baby and when it arrived (he wasn't home), I had no idea of how it worked??? I washed and sanitized the cups and left it on the rack to dry. When my husband got home and showed me how it worked...I was excited to see how our baby reacted to this new item....and it only took him a few minutes to figure out how to use it and then it was "grab, drink, and push it over" LOL. The best thing about this cup is that it doesn't spill! No mess no fuss! Excellent for moms! I would recommend this product to all moms!
July 10, 2015
These are great for little hands trying to figure out how to drink. I started my now 6-month-old on these when she was five months (just to practice). She has gone from throwing them around (and no leaks!) to understanding that the handles are meant to help her get the cup to her lips. These cups are great and if I didn't mention it before NO LEAKS!
April 17, 2017
I tried a lot of different bottles, nipples and methods of feeding to get my five month old son to take a bottle. Nothing worked. After reading some reviews, I decided to give these a try. My son drank from this cup no problem on the first try! It's also leak proof, easy to clean and great for teething babies as they can bite down on the entire edge of the cup. This is an excellent product and maybe now that he'll drink from it, I can get a break!
October 18, 2016
This is my favorite sippy cup for breastfed babies. It offers more than just a cup for drinking milk, water, or juice. Rather, it also helps with the dental health of the baby. Other than that, it is a perfect sippy cup that prevents any possible mess. When the child is not drinking, the valve will close automatically. This gives the cup an instant leak-proof seal.
The cup has been designed to allow the baby drink from anywhere, without the need of finding the perfect spot. Since the cup comes with a 360-degree drinking rim, it helps to promote the development of the child's mouth muscles.
You'll also have an easy time cleaning the cup since the pieces and valves are all easy to reach. Another good thing about the cup is that it can either be cleaned in the dishwasher or manually. Just remember to dismantle the pieces before you start cleaning the cup.
The Good:
It closes automatically to reduce spilling
It has a 360-degree tip for the baby to enjoy it from any side.
It is dishwasher-friendly
It can be used even when the child gets past the toddler stage.
The Not So Good
It is opaque, so you must open the lid to check the amount of liquid inside
It might be slightly costlier than other cups.
Product: Comotomo Bottle Review
Philips Avent Trainer Cup
Product
Deals
Photos
Last reviews

Philips AVENT
This Philips AVENT SCF251/03 My Natural Trainer cup makes it easier for your child to transition from bottles to sippy cups. Ideal for babies 4 months and up, this cup comes with both soft, Natural ...
amazon.com
Last price update: 2023-10-04 07:22:05
-Philips AVENT My Natural Trainer Cup-The overall quality appears to be outstanding.>Includes Natural Nipple (size 3) AND Spout
May 19, 2015
My EBF baby refused all bottles but would finally accept both breast milk and formula out of this sippy cup. Because it requires the baby to bite to release milk, it was perfect for our needs (my baby has been a biter since day 1 despite all our efforts). My baby would just chew on bottles and get very angry. It takes some patience as more milk comes out at once than when breastfeeding, if you're transitioning straight from breast to sippy cup. This has been a huge life saver.
February 6, 2017
This bottle was great. The stage 3 nipple works perfect for my baby, shes still trying to get a hang of the sippy cup top though. The bottle is only a 5oz bottle and I know a lot of people were concerned about that in the other comments. I was able to make 6 ounces in the bottle and my baby was able to use the bottle for about a month. I was able to put the top with the handles on my Avent Phillips 9 ounce bottle so my baby uses that as her main bottle while She still uses the small 5oz bottle and sippy top as a small sippy cup. I was a little worried I'd wasted money on this bottle but it worked out pretty well in the end.
August 12, 2016
This is one of the best transition cups for breastfed babies. One thing I loved about the cup is the soft silicone spout, which will give your baby an easy time transitioning to it. If you have any Philips Avent bottle or cup pieces, this cup will go perfectly with them. It is BPA free, so you wouldn't have to worry about exposing your child to any harmful chemicals.
It comes with a cap, which allows you to carry it without experiencing any spillage. I loved the nice trainer handles on the cup. The grip is also good enough, so it will not slip from the child's hands. The spout will always be clean and ready to use when needed.
The Good:
It is a great cup that comes at a low price.
It has a classy design
The spout is soft enough
You can use it with other Philip Avent bottles and cups
It has perfect trainer handles to help your baby get used to the grip
The Not So Good
The lid/cap is easy to remove, which can lead to a mess in case the baby unscrews it
It comes with a wide cup, and its size is baggy in general. This can be uncomfortable for some, kids.
Check out also Top Three Portable Bottle Warmers on Amazon!
Munchkin Hello Click Lock Sippy Cup
Product
Deals
Photos
Last reviews
Munchkin
Munchkin's new line of Click Lock cups are just right because they just click. These cups feature a simple click-and-lock lid to securely close for a leak proof seal, guaranteed. Parents will see, ...
amazon.com

Last price update: 2023-10-04 08:27:20
Loved the ease of use, the easy flow, the design. But the baby (1 yr) gnawed on the spout so much that it was all scratched up and I was a little worried about ingestion of small plastic shavings. Plus, it just looked gnarly after that. If my baby was a gnawer, I would've loved to replace my whole collection with these because they're so cute, easy to use (one valve, easy to clean, top rack in basket), and because they flow was good. Not good to get low-flow because kids have to suck harder and heard you can get ear infections more easily that way, plus, it's just not as fun as on-demand flow. Other cups i like are Gerber Graduates Advanced (good flow, easy valve, but uncomfy spout) and Tommy Tippee (great flow, harder to clean, good spout).Would've bought more if my kid weren't a gnawer.
January 13, 2016
Adorable cups. My daughters love the designs and they don't leak at all. Very easy to clean and fits easily into the car seat and stroller cup holders as well as the cooler tote. Also keeps drinks cool for a decent amount of time in the Florida heat. Definitely recommend.
June 4, 2017
My daughter was 22 months old when we purchased these sippy cups. She LOVES everything Hello Kitty so I thought these would be perfect. When she saw them, she was very happy and couldn't wait to hold the cup. She was able to drink from it just fine with the small gel attachment which goes on the inside and helps with spilling. For durability (we bought 2 packs) for the most part they are ok. My daughter drops these cups from her booster seat constantly onto a tile floor so we definitely needed something that was durable. One of the four cups we bought have survived this treatment. The one cup that did not survive, started to get water inside the insulated portion of the cup. Since we didn't want the cup to get moldy we threw it out, but otherwise the other cups are holding up great, we use them for day care every day and she loves the Hello Kitty on the cups.
February 24, 2014
This product comes with two cups that are ideal for kids over nine months old. I loved the design because it was perfect for my baby girl. The cups come with a click lock lid, which prevents any leakages. There's also a single-piece valve that prevents liquid spillage when the cup tips over. It is a perfect sippy cup for a breastfed baby since it's insulated to keep the drink cool for a long time.
The Good:
It is quite affordable
They can be cleaned manually or in the dishwasher
They are insulated for keeping the drinks cool
They come with a hard spout, which is perfect for kids who bite on spouts.
The Not So Good
They may be too delicate and twist easily when washed frequently in the dishwasher
If the baby chews on the spout for a long time, they can swallow some chips. This can be dangerous to the child's health.
Product: Amazon Lansinoh Storage Bags 100 Review
Munchkin Alphabet Cup
Product
Deals
Photos
Last reviews
Munchkin
Munchkin's BPA free cups help you teach the alphabet while your little one sips on their favorite drink. Features a hard Sippy spout and an easy-to-clean one-piece spill-proof valve along with a fun ...
amazon.com

Last price update: 2023-10-04 08:28:08
These things work. Period.If you have a toddler, you are looking at these (if you don't, why are you looking at these? My review is not THAT funny)These withstand drops, throwing, throwing at you, throwing at the wall, throwing out the car door, throwing at your head (that sucker is ACCURATE!), being banged on the table, repeatedly, for what seems like hours (well, when you are making dinner & mini me is hungry, it seems like hours) and unless you are not paying attention & have not fitted the valve firmly, they don't end up redecorating your walls/floor/car interior/ceiling/face/clothes with whatever you decided to put in there.Now, if you don't put the valve in properly, all bets are off & you deserve what is about to get sprayed all over whatever mini me decides to spray.Put the valve in properly, but learn from my mistake, be careful, as pushing the little tab that holds it in place up the inside of your finger nail, well, it sucks, and mini me might learn a new word (I have short nails).Then do yourself a 2nd favor, buy spare valves, as you WILL lose one somewhere, somehow & then your life will get worse again.Make your life easy, buy these & be a smart and less stressed parent.Trust me.Disclaimer, I have never been given anything for free from Amazon as apparently I am neither a prodigious enough reviewer, purchaser or just not funny enough to be worth anyone wanting to give me anything, so my reviews are as honest as you get....
July 5, 2016
We've tried so many sippy cups. Some break because our son throws them on the ground or others just leak. My 17-month-old son likes to tip sippy cups upside down and pour milk or water everywhere. I'm glad we got these cups because the liquid doesn't come out when it's upside down. We love the sippy cups! They're actually leak proof.The valve is easy to take on and stays on longer than previous sippy cups. It's easy to clean everything. Sometimes I stick the cups in the dishwasher, but we use them so much we usually wash them by hand. My son has thrown them around and the plastic hasn't broken. The cap is easy to close.We've already ordered more since our son likes to hide the cups in weird places and we don't find them until the next day.. and these are our favorite sippy cups that are actually leak-proof and hold lots of milk or water.
February 20, 2016
Had these for a while now and honestly they are the best sippy cups I've gotten since ... ever. BUT because my toddler loves throwing the bottle after he finishes it to make his point that he is done they started leaking from the sides 🙁 I've had $$$$ sippy cups and they swear they dont "leak" but might "spill" or vice versa... the point is I dont want to feel cold milk sinking My clothes & my very nice sheets when the little one wants to sleep in my bed so these have been amazing. I am ordering again.
June 15, 2017
This sippy cup can hold 9 ounces of milk, water, or juice. It comes with a hard spout, which is ideal for babies older than 9 months. The cups are BPA free, and you can easily wash them in the dishwasher. They come with a single-piece valve that is spill-proof. All in all, I had an easy time cleaning the cups, and they don't leave the place too messy. However, you'll need to keep the valve tightly closed to avoid any leaks. When you purchase, you get a blue and an orange cup, so you can use one for your boy and the other for your girl.
I didn't have a difficult time dismantling them or putting them back together. That is why I list it among the best sippy cups for your baby.
The Good:
The cups have a single-piece valve that prevents leakages and spillage.
You can carry it with you in the car and place them on the cup holders
They're sturdy and quite durable
They are easy to dismantle and put back together, meaning that you'll have an easy time cleaning them.
The Not So Good
The design makes it challenging to get out the remaining ounce of the drink in the cup
Unfortunately, they don't come with a lid
Parenting: Toddler spits out medicine, best way to crush pills
Munchkin Click Clock Weighted Straw Sippy Cup
Product
Deals
Photos
Last reviews
Munchkin
With Munchkin's weighted straw trainer cup, your toddler can hold it like a bottle but drink from a straw. The weighted straw cup dispenses liquid from any angle. And with the flip top lid and Click ...
amazon.com
Last price update: 2023-10-04 08:28:19
This cup is definitely not perfect, but it's the best training straw cup I've found for my daughter who is currently transitioning from a soft spouted sippy, and so still regularly tries to drink with it upside down. The weighted straw feature is the best designed I've seen. For that reason I'm giving it FOUR STARS, in its intended function as a training straw cup. If the weighted straw is a key feature you need in a sippy cup, then I'd definitely recommend this cup. But if you're just looking for the best sippy cup period, this one is only mediocre overall (I'd say TWO STARS), so I'd give it a pass.PROS:- Best-designed weighted straw I've seen: It has a rounded bottom and the weight is disc-shaped, so the weighted straw moves super smoothly around the cup and my daughter has no problem drinking at any angle.- Fairly leak resistant (when using room temperature liquids), meaning if your kid tips it upside down or throws it across the room while using it, at most a drop or two will come out (whatever was already at the top of the straw). But I would not trust it beyond that (see below)However, this cup also definitely has some negatives:- The click lock feature isn't super helpful, and makes it unnecessarily hard IMO to open/close the cup (if you overtwist it, it's very difficult to get off)- The flip-top lid is not securely attached and falls off frequently. As a result, this cup is definitely not one you'd trust upside down in your diaper bag- In addition, if you use this cup with cold/refrigerated liquids, the temperature differential causes the liquid to get sucked up through the straw and spill out of the top. Like, all over the place! (This issue will occur with any sippy that does not have a vent) So, I only use it for room temperature liquids, like water or freshly pumped breast milk. If you want a cup that can be taken in and out of the fridge, this is not a good choice- Handles are not removable (not a huge deal though, since I figure that once my daughter no longer outgrows the handles, she'll also have outgrown the need for a weighted straw)- Hard to clean (due to the weight at the bottom of the straw). For this reason I usually only use this cup for water (or if I need to use it for milk in a pinch, I make sure to wash it out immediately & thoroughly afterward)However, we live with these negatives and still reach for this cup first (during this training phase when my daughter is still regularly trying to drink with the cup upside down) because the weighted straw feature is so much better designed than other cups.For those also considering the ZoLi BOT Straw Sippy Cup - Orange 6 oz: I used that one for several years with my son. Same idea in general, but the weighted straw does not work as well; the cup has to be turned almost entirely upside down in order for the weight to fall to the top of the cup. However, the Zoli also has some advantages. It's much easier to get the lid on/off, and the flip-top lid is much more securely attached as compared to the Munchkin.)I will continue using this cup as a trainer until my daughter learns that she can keep her straw cups upright while drinking, then I will get rid of it and transition her to a straw cup that has a vent, can be tossed around in my diaper bag without leaking, is easier to clean, and is probably also not made of plastic. For the record, my favorite sippy cup for older babies / toddlers / preschoolers (who don't need handles or a weighted straw) is the THERMOS FOOGO Vacuum Insulated Stainless Steel 10-Ounce Straw Bottle, Blue/Yellow.I'm posting a video highlighting the key features of the Munchkin (including the weighted straw, click lock feature, and flip top lid) and also comparing the Zoli. Also a picture of my daughter drinking of out of this thing while holding it tipped up & backwards with no problems. Hope you find them useful!
May 25, 2016
Summary: This cup functioned but was not a good cup. The lid breaks off and it bubbles back up through the straw. We like the Zoli Baby BOT - Straw Sippy Cup instead.I started my son on the weighted straw cup at 6 months. The weighted straw idea is great but we had to go through quite a few cups to find the one we liked.The first cup we tried was the Munchkin Click Lock Weighted Flexi Straw Trainer Cup. It was fine for the first few days until it spontaneously started erupting milk out of the straw. The cup would just be sitting there and then all of the sudden milk would start bubbling out of the straw. This does not seem to happen with water. The lid will break off this cup. It is badly attached so just accept its going to happen.The next cup we tried was the Lollaland Lollacup. I really wanted to like this cup because it is made in the USA, but although it is very cute the weighted straw is too stiff so it does not bend, so it defeats the purpose of having a weighted straw at all.Then we tried the Innobaby Sippin' Smart EZ Flow 3-in-1 Stainless Straw Sippy Cup. This cup worked fine as long as you remembered to release the pressure as it instructs in the directions. If you don't it will do the same bubbling up thing as the Munchkin cup. This cup can withstand drops if they are not on the lid. The orange cap placement on this cup is bad, I had to take it off because it is too close to the straw and my baby kept putting the wrong one in this mouth, or when he would suck on the straw it would hit him in the face. Unfortunately this cup broke when dropped on our tile kitchen floor, because it landed right on its lid.Finally, we found a weighted straw cup that works. The Zoli Baby BOT - Straw Sippy Cup. I love this cup. It is sturdy enough to withstand many drops and does not seem to have the bubbling back up problem at all.
October 28, 2014
I have two of these cups. One I bought from BRU and one I bought from Amazon. The one from BRU works great, only leaks a little if left on its side or hanging from a sippy tether. But this one, ugh! It constantly pulls the liquid up through the straw (even when standing perfectly flat and upright) and literally pours whatever drink is inside onto the cup and whatever it is sitting on. I hate it! Unfortunately, this is the only cup my toddler will drink milk out of! I see this is a common complaint in the reviews, you'd think a company like Munchkin would actually pay attention and do something to fix the problem! I'm currently trying to get my son to drink milk out of several other straw cups in the hopes I can get rid of this one!
March 5, 2015
This is not just among the best trainer cups, but it's also one of the best sippy cups with straw. The cup helped me in training my kid during her toddler years. It comes with a nice design and a fitted straw to help the kid drink the milk with ease. It has a weighted design that allows the kid to drink the liquid from any angle. Above all, there's a lock function and a flip-top cap that makes it easy to carry wherever you go without any cases of spillage and leakages.
The Good:
The design is quite impressive
It prevents mess and spillage
It is easily portable
It comes with a fitted straw for easy drinking
It can be used from any angle
The Not So Good
You might find it somehow challenging to clean the cup
The flip-top cap can fall off easily
The handles are easily removable
Funny: Luvable Friends Towel with Cute Animal Face!
Remember to consider every factor of the cup before you purchase any product. Don't forget to choose the sippy cup according to your baby's age. You can also get more ideas of finding a good sippy cup for breastfed babies by checking out the best baby blogs.
Editor's suggestion: Top 5 Sound Books for Baby (My First Touch and Feel Sound Book)