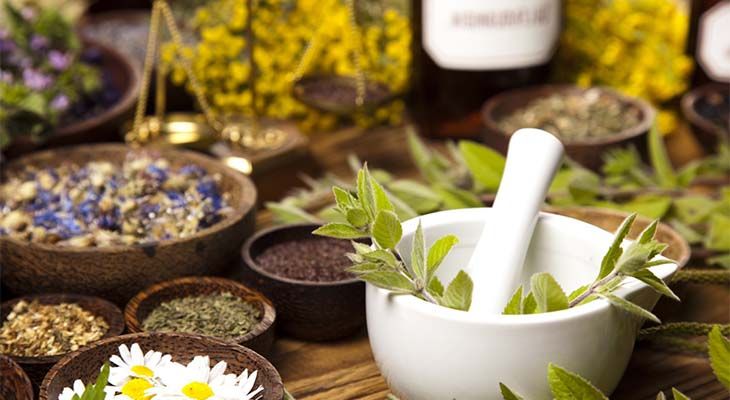 Any mom will tell you that watching her child suffer from itching or irritation is excruciating for her. This is very common for babies who have baby eczema. This is a frustrating condition for both mom and baby. The worst part is when you see your little one suffer from it and you feel like there's nothing you can do about it. No matter how much you want to help, you can't magically make the itch go away. Doctors will recommend their own conventional remedies. Unfortunately, these don't always work as well or as fast as we would like them to.
But have you ever considered using natural remedies for baby eczema? If you already have a remedy from your child's pediatrician, you can also use these natural remedies alongside it. These can be very helpful in terms of controlling the itchiness, especially when the baby eczema flares up.
Here are some of the best baby eczema natural remedies out there. Who knows, maybe one of these remedies will turn out to be the answer you've been searching for!
Food: Harvard Professor Warns Against Coconut Oil
Quick navigate of content on this page
Top Sunscreens for Babies with Eczema
Calendula cream
Marigold flowers, otherwise known as Calendula officinalis is often used to treat skin conditions and promote healing. Therefore, calendula cream may benefit your baby's eczema. The creams work by eliminating the bacteria, reducing the inflammation, and supporting the skin's healing. According to research, using calendula cream may help babies who have eczema by reducing inflammation and promoting the healing of the skin.
Not only that, but this cream can also work as one of the natural remedies for eczema that has resulted from radiotherapy. Some moms even use this type of cream to treat minor cuts and wounds. It's definitely worth a try, don't you think? Of course, stay away from creams which may contain chemicals or harmful ingredients if you want to use it on your little one's skin.
Pros of Calendula cream
It helps the cells from getting damaged radically.

This herb is traditionally used to prevent from abdominal cramps and stomach problems

It helps in increasing blood flow and oxygen to wounds and other infected

areas.
Cons of Calendula cream
Sometimes, application of this cream can cause skin rash to those who are sensitive

to plants.

This plant may discourage couple's ability to conceive by preventing fertilized eggs from implanting properly.
All in all, this cream should be used only for children.
Product
Deals
Photos
Last reviews

Boiron was founded in 1932 in Lyon, France, by twin brothers and pharmacists Jean and Henri Boiron. As the world leader in homeopathic medicines, Boiron is a $852 million public company with 3,700 ...
amazon.com
amazon.com
In stock
Last price update: 2023-10-03 21:18:24
I have developed chronic soreness and inflammation in my rectum.I tried every readily obtainable form of relief such as prescription Nystatin,over the counter Aquaphor and Neostatin.But this is the one that works and heals.You probably are suspicious of homeopathic remedies like this one.Believe me no one is more suspicious of any form of quackery that I am.So much so that I was reluctant even to give it a try.Incidentally this item sells for 13 bucks at my local CVS so the on line purchase is a bargain to boot.
December 8, 2015
This was recommended by my mother-in-law's cancer doctor to ease the effects of radiation treatments. It worked very well for the 33 treatments we took her for.
June 13, 2013
I am very fair skin, had acne on and off most of my life. I hit my 40's and rosacea started to appear as a small patch and then eventually got worse. I went to the dermatologist like everyone else, get the medications, the topical meds etc, to me some of these doctors not all just dismiss this condition and push you to take all these meds and creams. I read and read all sorts of treatments, tried cleaning products to calm the skin, basically as everyone else you just want relief. I came across an article in the paper about calendula and the benefits, so I decided to give it a try. I have been using it for 3 weeks now, my redness has subsided, I am not getting any small pustules as before, I had dry patches from the topical meds that has also disappeared. I even drank red wine which I thought was a trigger of mine and I did not have any reaction! Please try this cream - for the small amount of money it is - I sure hope it works for you as it did for me!
May 31, 2015
Coconut oil (cold pressed)
If you've heard about coconut oil, you would have probably heard how beneficial it is. As a matter of fact, coconut oil can do wonders on dry and eczema-prone skin. This oil serves as an effective moisturizer.
Also, there is scientific evidence showing that coconut oil also has some antibacterial properties. Because of this, it can help reduce the risk of infections from eczema.
Pros of Coconut Oil
It helps in preventing baby skin from getting affected by a diaper rash

.

It helps to smoothen baby hair and prevent from getting a dry scalp.

It helps in preventing your baby from affected by insect bites.

It helps to soothe the teething pain caused by inflammation.
Cons of Coconut Oil
Oral intake of coconut oil can cause diarrhea.

It can cause an allergic reaction in some children.
So, one must make use of coconut oil, only after consulting a pediatrician as coconut oil can be harmful to some children.
Video How to use coconut oil for eczema:
https://www.youtube.com/watch?v=VJKWzgZtkuc
Creams which contain vitamin B12
According to research, creams which contain vitamin B12 can also be very helpful in controlling the symptoms of baby eczema. Clinical trials performed regarding such creams have shown some promising results as well.
Oatmeal bath
For millennia, people have used ground oats to relieve skin irritations as well as itching. Also, some trials indicate that oatmeal can relieve the symptoms of eczema by reducing inflammation and bringing the pH level of the skin to its normal levels. Of course, oatmeal baths seem to work for some but not with others. But since this remedy is both cheap and simple, it's definitely worth a try.
So how do you make an oatmeal bath? Simply place a handful of oats into a clean sock then hold it under the faucet while you're running your child's bath. If done correctly, the bath water will look milky. As soon as you've filled the tub, leave the sock with the oats in the bath so your little one can play with it.
Pros of Oatmeal bath
It helps to prevent baby skin from getting affected by rashes.

It helps to heal baby's skin from itching caused by chickenpox.
Cons of Oatmeal bath
An oatmeal bath can be dangerous as it can sometimes cause extreme nausea.

This can also cause dizziness and breathing troubles among babies. Being a skin medication, Oatmeal bath must be diligently used for treating sensitive skin of babies.
https://www.youtube.com/watch?v=Y9ExhCsueNs
Oil supplements (borage and evening primrose)
For some time, people believed that taking borage and evening primrose supplements can help reduce the symptoms of eczema. These oils are healthy and rich in the essential fatty acids. However, recent studies haven't shed doubt on the effectiveness of these oil supplements. If you still want to use this natural remedy, it's best to couple it with a healthy and balanced diet.
Probiotics
Although probiotics are highly beneficial, there's not much evidence that it can help treat baby eczema completely. Still, we are including this on our list for baby eczema natural remedies because of its many health benefits. Probiotics can be very beneficial especially if your little one also suffers from reflux or colic aside from eczema.
Keep in mind though, probiotics will help build a healthier gut flora which will take time. You may need to wait for about a month or so before the probiotics will have a good effect on your child. Also, the quality of the probiotics varies from one product to another, so you need to choose wisely.
Pros of Probiotics
It helps in reducing diarrhea

It helps to increase immunity
Cons of Probiotics
It may cause bloating

It causes intestinal gas among children
Probiotics are supplements that help to boost the good bacteria in a child's body and destroys the harmful ones by reducing infections.
Salt
Some people claim that they experience effective results from what's known as "halotherapy." This is a technique used by clinics and is quite common in Russia and Eastern Europe. For this treatment, you would have to go into a treatment room. There, high-grade micro-crystals of salt get diffused into the air. These salt particles come into contact with the skin where they help decrease the irritations and itching. Therefore, the treatment can help improve the symptoms of eczema.
According to research, this type of treatment is especially effective when experiencing flare-ups of the condition. Some clinics have dedicated rooms for children so if your little one suffers from eczema. You can investigate if there are such clinics in your area. If you're looking for a more cost-effective alternative, you can go for a swim in the sea with your child. This may help clear up the baby eczema in some children but not in all of them. So it's still important to be very cautious.
Pros of using Salt:
It leads to balancing of other bodily systems.

It relieves children from long-term breathing and skin problems.
Cons of using Salt:
It might cause throat irritation.

It might have a negative effect on child's eye.
Being a helpful treatment among eczema patients, it must be taken under the supervision of a pediatrician.
Epsom salt video
Product
Deals
Photos
Last reviews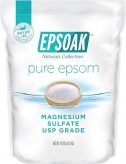 HIGHEST PURE QUALITY (Packaged in USA): PURE UNSCENTED Epsoak Epsom Salt (Magnesium Sulfate) is USP grade and GMO free (Genetically Modified Organisms).; DISSOLVES QUICKLY/GREAT VALUE: After soaking ...
amazon.com

amazon.com
In stock
Last price update: 2023-10-03 21:18:30
I've always kept epsom salts around the house. Nothing is better for soaking an infected hangnail or sprained ankle or helping to draw out a splinter. Sadly, the last time I went to buy them locally all I could find was a waxed carton containing relatively huge, vaguely purple "lavender" crystals, not at all what I was after. Nothing could be farther from that than these Epsoak Epsom Salts that arrived on my doorstep a couple of weeks ago from the San Francisco Salt Company.The very first thing I noticed about these Epsoak Epsom Salts is that they are much finer crystals than the stuff in the waxed carton and they glitter the way that a certain type of snow does when light shines on it, so much so that my very first thought was "wouldn't that make great snow for Christmas decorations!" As it turns out, Epsoak Epsom Salts absolutely would make great "snow" for Christmas decorations - and you can use these for dozens of other things too. Here are just a few I've found -* Epsom salt is mostly a chemical called magnesium sulfate. It is great for plants. Feed your houseplants monthly with water to which you've added 2 tablespoons of epsom salt per gallon of water.* Outdoor plants love epsom salt too. See the Epsom Salt Council website for specifics of how much & how often to feed your peppers, tomatoes, roses, lawn and other outdoor plants.* Add a pinch of epsom salt to each hole as you plant your bulbs for spring flowering to keep critters from feasting on them.* A little Mod Podge CS11202 Original 16-Ounce Glue, Gloss Finish and some Epsoak Epsom Salts will have you turning out luminarias, artificial snowballs, greeting cards and much more.* Combine Epsoak Epsom Salts and warm conditioner to volumize your hair* Add a small handful to your shower gel for a natural body scrub* 2 tablespoons dissolved in a cup of water will sooth mosquito bites, bee stings, poison ivy and mild sunburn. Soak a cotton washcloth or pad and apply as a compress.If I'm lucky, there just may be a handful or two leftover for my bath . . . .Two thumbs up!
May 7, 2013
Let me start by saying I love the quality of this salt. I struggle with chronic psoriasis and I take 2-4 salt baths per week. These salts have always done an exceptional job in terms of the ease of which they melt/dissolve in water and their efficacy. It seems like I am able to use less of these salts to the get the same effect as a cheaper salt would in higher quantity. So that's all good news.Here's the bad news - these salts are expensive. Like, really expensive. I feel like a large portion of the cost goes toward the packaging, as these salts come in the nicest packaging I have ever seen for Epsom Salts, especially in the bulk sizes. Because of the cost, I have started exploring elsewhere and have found that Walmart now has recently started selling a Great value branded epsom salt in their pharmacy section this year that is substantially cheaper (Epsoak is about $1.47 per lb, and Great Value is $0.62 per lb). As someone that uses Epsom Salts very frequently, I can tell you that the Great Value branded salts are just as effective as Epsoak, and they're more than half the price!
February 24, 2018
Lots of salt for the money!I am super happy with being able to buy this inSuch a large bag because I was getting pretty tired of buying epsom salt in small 3 or 5 pound bags. I recommend getting something like the IRIS Nesting Airtight Pet Food medium sized Container 10 pounds for like 10 bucks because it holds this entire bag of Epsom salt perfectly!
March 12, 2017
Sunflower oil (cold pressed)
Just like coconut oil, sunflower oil is also a great natural moisturizer. It's rich in the essential fatty acids, and it gets absorbed by the skin easily. Some believe that when the body doesn't have enough of the essential fatty acids, this may contribute to the development of eczema in babies and children. According to studies, sunflower oil has anti-inflammatory properties, and it may help enhance the skin's barrier function.
If your little one has baby eczema as well as colic, then you can try to massage his/her tummy using sunflower oil. This will give your little one a moisturized tummy along with a comfortable feeling as it will help relieve the itching too.
Pros of Sunflower Oil:
It improves the overall skin health of a baby.

It treats acne effectively.
Cons of Sunflower Oil:
It might not suit your babies skin and lead to other major skin diseases. Sunflower oil has healthy properties of healing infant's skin effectively. However, it must be used in controlled amounts as it might lead to other serious skin related ailments among infants.
Vitamin D
Studies suggest that when eczema worsens during winter time, one of the triggers may be a deficiency in vitamin D. A lot of kids lack this vitamin so if you notice that your baby's eczema is particularly troublesome during the gloomier months, ask your doctor about vitamin D supplementation.
In fact, the current recommendation of the Department of Health is that children between the ages of 6 months and 5 years must take a high-quality multivitamin supplement daily. To help prevent eczema, it should also contain vitamin D.
Pros of Vitamin D:
It nourishes the baby skin and prevents it from getting damaged.

It helps to strengthen bones.
Cons of Vitamin D:
The overdosage of Vitamin D can lead to poor appetite and muscle problems.
Vitamin D is a healthy supplement that is needed for healthy growth and development among babies. It helps in strengthening the overall growth of a child.
Conclusion
Just like pharmaceuticals and other conventional medicines, natural remedies won't work for all babies and children. These remedies may have different effects on different children. So, the best thing you can do is try these different remedies to see which one will help your own baby. Whether you want to look for home remedies for baby acne or baby eczema, the key is trying different natural remedies.
This doesn't mean that you should ignore conventional medicine or the advice of your little one's doctor. It's still important to learn about new developments or treatments, so you know all the options available. You can also ask your doctor about the natural remedies before trying them out. Some might even support you in your quest for finding a natural solution to your little one's frustrating condition.