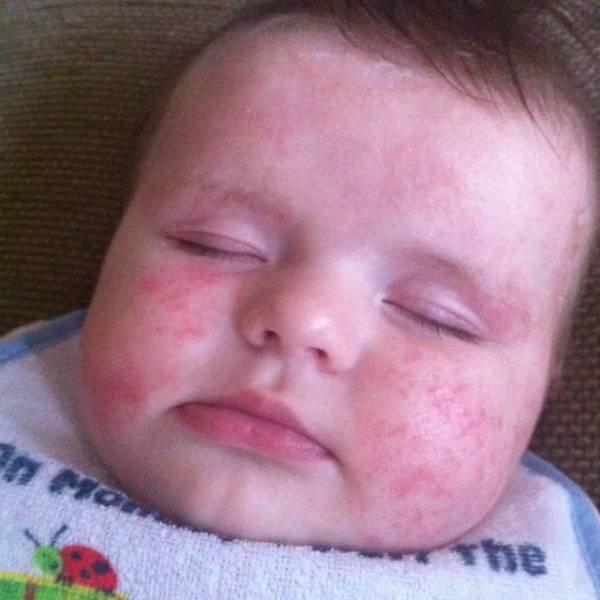 Eczema, also known as atopic dermatitis, is a dry, itchy skin condition that usually affects children from one to five years old. In general, it's easily confused with dry patches on the newborn skin, check out this article to know if it's the case for your baby. The main difference between dry skin and an eczema outbreak is that dry skin is typically less painful and itchy. Eczema, on the other hand, often includes cracked or bleeding skin, as well as blisters or sores.

Eczema in babies tends to show up on their cheeks and scalp first. It may then spread to other parts such as the face, arms, legs, chest, back, neck and elbows. When a baby has eczema, the skin's barrier is less effective than usual. As a result, skin is less supple, and because it is cracked, it is easier for allergens or infections to enter the skin. This makes the condition worse. There is no official cure for baby eczema, but there are many treatments available.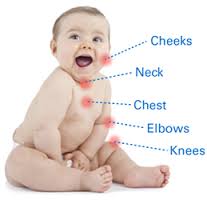 Areas on the body that baby eczema may appear
No one knows exactly what causes eczema in babies, but it is genetically inherited. Therefore, a baby is more likely to contract eczema if it runs in the family. Moreover, it is also more likely to occur if the family medical history includes a history of ailments such as asthma or allergies.
There are many possible causes of eczema in babies. Allergens or irritants in the environment can trigger an outbreak. Chemicals that are found in all sorts of household and beauty products have been known to cause a reaction resulting in eczema or some other form of dermatitis. For example, an adult with sensitive skin is prone to cracked and bleeding skin simply from washing the dishes without rubber gloves. Laundry detergent can trigger or even create allergies over time, resulting in rashes and itchiness. People often deny that their detergent is to blame for a reaction because they've used it for years, but our skin can change and adapt over time. This means that you can develop an allergy to something you never had an allergy to before.
Any beauty products that contain fragrances or harsh chemicals can also trigger breakouts of eczema or other skin disorders. Hand moisturizers that smell of perfume should be avoided, for example. There are a range of products available for people with sensitive skin. To avoid baby eczema, you should only use natural products. Look for products that use ingredients like cocoa butter, aloe vera, and oatmeal, as all of these are known for their skin healing qualities. Everyone is different when it comes to skin disorders and treatments. What works for one won't necessarily work for another. The same goes for your baby. The only way of really finding out what works is trial and error, unfortunately.
The severity of eczema ranges from mild to very severe, as you can see in the below baby eczema photos:
Mild eczema on hands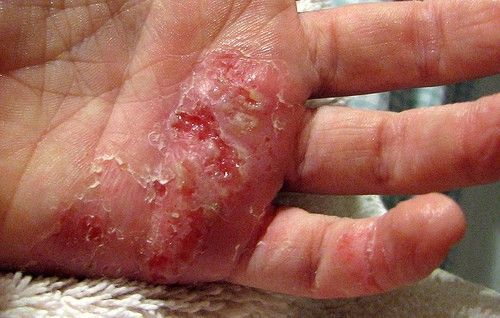 Severe eczema on hands
As a result, it can be difficult to know if your baby just has normal dry skin or eczema. Dry skin will not have any severe cracks or any bleeding. It will often resolve itself if you use a good quality moisturizer regularly. If the skin turns into an itchy rash and the rash appears frequently, it is more likely to be baby eczema.
Eczema is also sometimes confused with cradle cap, but there are some key differences. Cradle cap is much less red and scaly, and usually appears on parts of the scalp, sides of the nose, eyelids, eyebrows, and behind the ears.
The main symptom that stands out when it's eczema is the notable scaliness, and cracked appearance of the skin. This is the main symptom you should look out for, as the other symptoms occur with other skin imperfections, too. When it comes to skin disorders, misdiagnosis isn't a serious issue, as they are all treated with similar products.
3
Treatments for Baby Eczema
As said above, eczema can't be cured, but it can be managed with the correct treatments. When living with eczema, it is really important to keep symptoms under control. Thus, you need to know about the everyday triggers that might affect you or your child's eczema conditions. Make sure you have a proper skin-care routine and avoid chemicals or environments that cause eczema flare-ups. There are a number of things you can do in order to treat baby eczema:
Moisturize regularly

Whenever the skin gets too dry, it may become irritated which can contribute to outbreaks of eczema in babies. There are many factors that lead to dry skin including wind, low humidity, cold, harsh soaps and bathing/showering often without moisturizing afterwards. Moisturizing is one of the most important things you can do to help control any form of dermatitis. There are a wide variety of moisturizers available specifically for people with problematic skin.
Product
Deals
Specification
Photos
Last reviews

Aveeno
We recommend that the consumer direct any on-going concerns regarding a physical reaction to the AVEENO product to their physician.; Helps relieve dry, itchy, irritated skin due to eczema; Natural ...

amazon.com
In stock
Last price update: 2017-05-07 07:57:01
| | |
| --- | --- |
| Product Dimensions | 1.9 x 3 x 8 inches ; 8.5 ounces |
| Shipping Weight | 9.6 ounces (View shipping rates and policies) |
| Domestic Shipping | Item can be shipped within U.S. |
| International Shipping | This item can be shipped to select countries outside of the U.S. Learn More |
| UPC | 381371018420 |
| Item model number | J&J429027 |
This cream is absolutely amazing, it cleared my eczema on my hands in two days.I've had this breakout now for months and have tried even the medicated steroid creams and they did not even give half the result this cream has done in just a few applications.It's thick enough to not wear off within a few minutes but not too thick to feel uncomfortable.I would recommend to try and keep your eczema area clear of perfumes and scented soaps, keep as dry as possible and use the cream at least twice a day.Rub into area well but don't rub till its dry again, you want to keep it moistened.When applied properly it stays on skin for a few hours visibly but in reality it's still there even if you don't see it you can feel it.The size of this bottle is really affordable for the price you pay. It should last a few months, of course that depends on how bad your eczema is but mine is just on my hands.I would recommend this to anyone suffering from eczema.If you found my review to be of help, please click the "helpful" button below. It helps my Disabled Veterans Group with much needed supplies.Thank you and always be safe 😉
September 24, 2016
Like many others here, I have eczema. Fortunately, my eczema only becomes an issue during the winter months when the air is very dry and cold. It's become more of an issue as the years have gone by, though. It also becomes worse as winter progresses. My skin becomes dry, scaly, flaky, it cracks and itches and burns. What I have done to address my skin problem:1) Taken cold showers instead of warm showers.2) Have a humidifier in my room.3) Apply lotion twice a day.4) Drink lots of waterAll these things have only helped to keep my skin from becoming unbearably dry, but they have not helped to actually heal my skin. It continues to get worse as winter drags on. I've tried all types of creams and lotions and none of them have helped. No matter what I use, it always seems to leave my skin feeling dry again within hours. Some days I fantasized about just laying in a tub full of lotion for the entire day, just to give myself some relief from the dryness. =)When I first used this Aveeno cream, it was right before I went to bed. When I woke up the next morning, I noticed my body was somewhat sweaty, which never happens during the winter, as my skin becomes so dry it keeps me from sweating normally. I also noticed that my skin was still moist and that I had a lot of loose, flaky skin. Not the bad kind of flaky, but the good kind, the kind where your skin becomes flaky when you heal from a sunburn and it becomes to peel. When I went to shower that night, all the flaky skin just rubbed off. This lotion has been effective in keeping my skin moisturized to where the dead skin that accumulated on the surface during the first few weeks of winter is beginning to separate and peel. It's been about 4 days and now I can definitely see and feel the difference.Read more ›
December 10, 2015
I was using this lotion very frequently on my daughter and never had any problems. It applies to her skin very smoothly and easily and really does help clear up the few dry trouble spots that she gets behind her knees and around her elbows. I just ordered another bottle and used it on my daughter after her bath, and she broke out in hives everywhere the lotion was used on her body. I thought she was reacting to laundry detergent, so after her next bath we used the lotion again and the same thing happened. Huge hives! They went away after rinsing her off in another bath but we won't be using this product again. Maybe it's a bad batch or a recipe change?
June 13, 2016
(FYI: minimum amount for an order at Amazon US is $15, you can increase the quantity or add other products to get this limit. Read more on Amazon deals & sales programs explanation here.)
Prescription medications

Under the care and advice of your doctor, you can apply medications such as corticosteroids and topical calcineurin inhibitors directly to the affected area in order to ease the redness, rash, and itching.

Phototherapy

With this kind of treatment, the doctor will use a special machine to emit narrowband ultraviolet B light onto the skin for purpose of reducing itching and inflammation, increasing vitamin D production and bacteria-fighting systems of the skin.

Systemic medications

As mentioned above, the root cause of baby dermatitis is still not fully known, but it is known that it is connected to an imbalanced immune system. Depending on the severity of the eczema, a systemic medication may be prescribed by the doctor in order to stop your immune system from overreacting.

Alternative therapies

The fact shows that alternative therapies can be beneficial in controlling eczema conditions. These Alternative therapies can be beneficial in controlling eczema conditions. These therapies include natural food ingredients that act as moisturizers (cod liver oil, coconut oil), detox baths, and homemade healing salves. Coconut oil, for example, can be used as a moisturizer, hair conditioner, oil cleanser, and even in cooking.

Stay cool to allow skin to breathe

Try to limit contact with materials like wool and scratchy materials that may irritate very sensitive skin. Dress in natural fabrics if possible. Silk, linen, and cotton are popular choices of natural fabrics, and are readily available.
Product
Deals
Photos
Last reviews

Maple Clothing
Organic Cotton; Eco Friendly 100% Organic Cotton (soft and thick fabric); Global Organic Textile Standard (GOTS) Certified; 210 GSM Interlock fabric, incredibly fine, soft and strong; Machine Wash ...

amazon.com
In stock
Last price update: 2017-05-07 07:57:08
Want to give more stars as I liked this when we received it and the fabric felt good. Smooth and comfy and not too thin or thick. But the arm holes were really small and I had to stretch them to get my kiddo's hands through. Then after just one wash, all but one of the snaps fell off of one leg so it only snaps at the ankle now and right above the crotch. Bummer. It's a goner.
April 2, 2015
I never write reviews but I think this is actually important -- I loved this little footie until one day 2 of the snaps came unattached. I found the very very very small metal pieces laying next to my baby on her play mat. The female end of the snap has sharp metal spikey things that come out of it meant for keeping it secured in the material. I still shudder to think of what would've happened if my 5 month old had put that in her mouth (given the fact that she puts everything in her mouth, it's a shock that she didn't).So maybe, if you're gonna get this, check it non-stop to make sure the snaps are all in place!
March 9, 2015
So, I bought this because we bought a different footie sleeper from the same company and LOVE it. However, we didn't notice at the time that the buttons on the other one run down one side, while this has buttons that snap on the insides of either leg and in the crotch (it's not immediately apparent by looking at the pictures, and we had no reason to assume that choosing a different pattern would result in a different product altogether). It's really hard to get it buttoned correctly, plus the V-neck comes way down to the middle of our son's chest. I wouldn't buy this again.
February 14, 2016
No scratching :

Scratching your itchy areas with hands or rubbing the face against the sheet when sleeping may bring temporary relief but these actions can make your condition worse. Make sure to keep your baby's nails clipped, so they don't scratch themselves with long nails. If your baby is having serious trouble sleeping, you could ask your doctor for an antihistamine to help with the itching so that your baby gets a good night's sleep.

Soaps and cleansers

If your child gets eczema, you should use kinds of special soaps and cleansers made especially for sensitive skin. The reason soaps can irritate the skin is because of the pH level. Skin generally has a pH level of between 4 and 5, while most soaps have a pH of 9 or 10. Their high alkaline content can cause irritation; depending, of course, on the sensitivity of your skin. Always look at labels when buying any healthcare or beauty products, because regulations require companies to outline their composition. You'll be pleasantly surprised at how much you can find out just by reading a label.
Product
Deals
Specification
Photos
Last reviews
Pure & Essential Minerals
ITCH RELIEF

amazon.com
In stock
Last price update: 2017-05-07 07:57:04
| | |
| --- | --- |
| Product Dimensions | 2.5 x 2.5 x 1 inches ; 2.1 ounces |
| Shipping Weight | 2.4 ounces (View shipping rates and policies) |
| UPC | 680569328908 |
(This review has received some good attention, so I've written an update at the bottom that's a "must read" for people with psoriasis.)I've been living with Psoriasis for a very long time. The area where this affects me is my face and scalp, but about 4 years ago I started having "episodes" so frequently that my social life went to hell. Some days I looked like a monster, others like a burn victim, and well, let's just say I preferred to stay indoors, severely depressed. Over the span of a year, I tried EVERY single over the counter product I could find that had something to do with my condition. Nothing worked.After about a year of this, someone I met gave me a prescription ointment that would do the trick after 3 days of use, but the condition would return just 4 or 5 days later, and this product was so strong it had warning labels recommending not to use it more than twice in 7 days. I had no choice but to disregard the warning to try to have a normal life, but I knew I needed a better alternative. I decided to take my search to products online, and bought this one.The first 3 or 4 days of using this, it had helped a little, but not enough. Because of it's reviews, I decided to try it a little longer, and man, I'm glad I did. After a week of use, It had taken away all the redness, and reduced my skin flaking to a manageable amount. I've been using it for about 2 months now, and haven't had to even look at the evil prescription product.Here's what works for me. This balm will make your skin look very greasy/oily, so don't use it in the morning if you have to go out. I apply GENEROUSLY right before I go to bed.Read more ›
November 14, 2013
A few months ago, I purchased a 2 oz tin of the balm. I suffer from moderate eczema and dry/irritable facial skin. The product worked great and really helped my skin issues.Once I was about half way through the 2 oz tin, I made an order for the larger 4 oz tin of healing balm a couple months ago on Amazon. I recently opened it only to discover that it was not the same product that I received with my first order.The balm is absolutely littered with all of these tiny little bead-like pods (seeds?). I've added a picture to show what I am referring to.While I've tried to simply deal with it, the product does not help me anymore because these little pods are rough, irritable and just get all over the place, especially in my hair when I apply the balm to my face.I'm really disappointed and afraid to order this product again if the quality is going to be inconsistent. Did I just get unlucky with a 'bad batch'? Could I get a replacement order that mirrors the smooth balm that I received in my first purchase or at least a refund? My most recent purchase is completely unusable for me which is disheartening because the first order I placed really was a helpful product. I tried to contact the seller directly but kept getting an error about their site captcha's that I did my best to troubleshoot but to no avail. Hopefully I can get in touch with them here and if the situation is rectified I will definitely consider updating my review.
September 5, 2015
It is difficult for someone that suffers from Psoriasis or Eczema to find a balm or healing product that really works, especially one that is all natural. With most products you walk around smelling like a lab experiment. With this Hemp Seed Healing Balm there is no fragrance or perfume at all. It goes on your skin without leaving a greasy feeling. Shortly after you apply it to the problem areas you feel a slight tingle, this just lets you know it's working. Not only do I recommend this healing balm for eczema and psoriasis sufferers, but for anyone with dry or combination skin. It works fast, I received it on September 11, 2013 and in the two days that I have used it, no reactions, no breakouts and I see and feel progress on my skin. As someone that has struggled for years and spent hundreds on supposed remedies, this one just does the trick!The trouble areas for me are mainly the tops of my hands, elbows and knees. For many, these areas are drier than other areas of the body. For this purpose, the hemp seed healing balm (which is Vegan and chemical free by the way), is something I wish I would have found years ago. Finally, a product that does what it says it will do. It is suggested for dermatitis and most skin conditions. From the great results that I have personally experienced over the last two days, I am suggesting that you give this a try. If you're like me and have spent hundreds on creams, serums, other balms and prescription medication with little or no results, give one more product a try.The natural elements in the hemp seed balm rejuvenate the skin. It gets down deep as you rub it in to rehydrate, waken skin cells and makes your skin look healthy again. The red blotches that I look at every day are even improving.Read more ›
September 12, 2013
Foods and drinks

Avoid allergic foods and drinks that may irritate the skin. Some aren't relevant when your baby is very young, but it's best to take note of them anyway, just in case their eczema continues into later life. Food and drink which trigger eczema include cow's milk, eggs, soy, wheat, fish, and nuts. Make sure that you don't eliminate these food groups entirely, particularly if the eczema is mild.
In order to prevent your baby from getting eczema, or manage it if they already have it, try to avoid all triggers that may irritate their skin.
For example
Try to buy natural materials when choosing clothes for your baby.

Purchase soft, cotton clothes for your baby. A

comfortable gear

for your baby will do just fine.

Keep the baby cool by monitoring the room temperature regularly

Avoid smoking around the baby

Use cleansing products made for sensitive skin. Always read the ingredient list on the   bottles before you buy as some products claim to be natural but aren't at all.

Avoid foods and drinks that can trigger eczema.
In conclusion, baby eczema can cause a lot of discomfort for your child. Taking good care of their skin should be a high priority. When they get older, make sure to communicate with your child about their eczema so that you have sufficient information to get suitable treatment. Most children outgrow eczema before school age, but it's best to be prepared just in case.