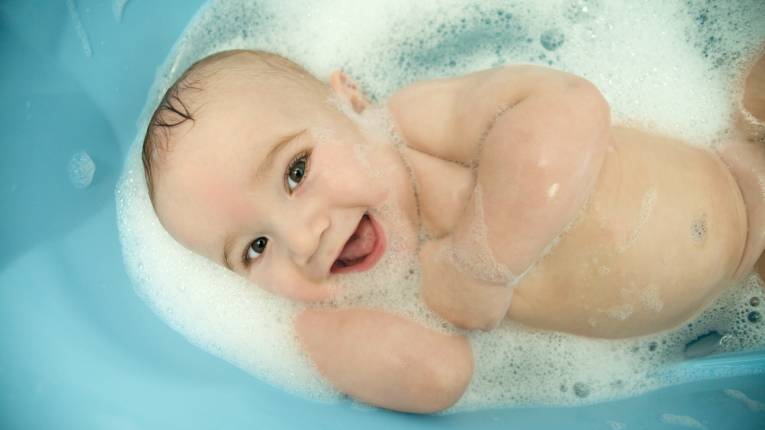 Everything you do for your newborn child needs to be handled with extra care. You should always pay special attention to everything you do for the newborn baby. Doing the right things and making the right choices is of utmost importance when it comes to our newborn loved ones. How to give your newborn a sponge bath, for example, can be a bit tricky — especially the first few times you do it.

Parenting: Nursingpillow.com review, its promo code is a SCAM?

Water is essential for a baby's hygiene and cleanliness. However, your baby is very fragile, and water can actually threaten your baby's health if you don't follow instructions carefully. There are particular ways to bathe your newborn baby. You don't just turn on the faucet and hope for the best. The following tips will offer you valuable insight on how to correctly give your newborn a sponge bath:

Health and Baby Care
Quick navigate of content on this page
Initial Preparation
Before you run a bath for your baby, you first need to make sure that you have all the supplies you need. These should be easily within reach, because, once you start bathing your baby, you won't be able to leave him or her even for a moment. Therefore, it is important to decide what supplies you need and have them ready at your convenience beforehand.
The items that are actually necessary for the running of the bath include a tub,

baby soap

, baby lotion, a mug for pouring water, two washcloths, and cotton balls for wiping residual water from your baby's eyes and ears.
Product
Deals
Photos
Last reviews

Burt's Bees

Burts Bees Baby Bee Getting Started Gift Set, makes a welcome baby gift for a new mom. It has everything a mama needs to gently care for her little ones delicate skin. This 5 piece gift set comes in ...

Start from: $16.99
amazon.com

Last price update: 2023-10-03 20:07:21

I love the Burt's Bees Baby Bee products. We use the shampoo, multi-purpose ointment and diaper cream. I realize not every baby's skin is created equally but I highly recommend the diaper cream! We've never had to use anything else and rashes seem to clear within 24 hours if I catch them at the onset, change diapers more frequently (e.g. every 2 hours) and watch the intake of acidity while healing. The reason I'm only giving three stars is because of the pricing. I paid around $11.50 on Amazon and then saw a similar set at Target for $20 that includes an 8 oz. shampoo, 6 oz. lotion, 2 oz. diaper ointment and 1 oz. oil. That is a MUCH better value and I wish I had seen that first.

December 3, 2014

This is my go to item for baby showers. I received this as a gift when I was pregnant and loved it! It's a really great way for a new mom or dad to try out the products and decide what they like. For us, our favorite was the cream to powder diaper cream. It didn't feel greasy and was really helpful for rashes. Now that our child is older we continue buying the shampoo and wash because it's great for sensitive skin and smells really good. I also love supporting a company that uses natural ingredients and sustainable practices.

June 9, 2017

I bought this small package to try the product out. I have sensitive skin and seems like I'm allergic to everything, so I wanted small test tubes to try for my twins who were born in December. Only thing I have to question is why did the cream to powder separate? Like inside the tube. It now comes out as this... I dunno.. weird looking and smelling watery stuff. Not the paste that it was on the first few tries. Not even shaking the bottle helps. I ended up just throwing that one away. But the rest are great!

March 17, 2016
Next, it is recommended to have some bath toys for your baby, so they are kept entertained while you're washing them.

There are certain items that you will need immediately after you

bathe your newborn

. These include a baby comb or brush (combs are probably better for the baby's fine hair),

a soft fluffy towel

, baby oil or lotion, a diaper, diaper ointment, and clean clothes.
Product
Deals
Last reviews

LOVE MY

❤ 100%cotton for High quality, soft, Healthy, Absorbent, breathable,Easy washable and Dryable - Hypoallergenic and reusable Bath Towels,No chemicals,Perfect for your baby's sensitive skin, ...

Start from: $22.97
amazon.com

Last price update: 2023-10-03 20:07:23

First let me say this was kind of an impule buy for me. I have a 2 year old whom I now use my adult towels on. Of course when she was younger and smaller, I used baby towels to wrap her up and dry her off, but man they grow quick! And when I saw this product I thought it would make a fantastic baby shower gift to my mama friends who are now having #2. Honestly, this wouldnt have been my first choice as a gift had I not seen this particular product.I came packaged in a plastic sleeve, which I guess I am ok with. I thought maybe it could have been packaged slightly nicer though. It came with a little information card with washing and drying instructions, which is super helpful because the towel itself doesnt have a tag with the instructions sewn into it. It does however have a little loop for hanging (also super helpful). So as I said, I was going to use this as a gift for someone else. But when it came in, well, I changed my mind. I wanted it; had to have it! I was so intrigued by the material and thickness that I ripped open the bag. Now when my daughter was born I made sure we had plenty of muslin swaddle blankets, towels and wash clothes, so I am familiar with the material. But none of the products I had purchased for my child that were made of muslin were this thick. Not in a long shot. I was super surprised at the thickness and softness and knew I had to keep it for myself... I mean my daughter...I mean my hair. Kidding..sort of. I only say that because the descrition boasts awesome absorption (3x's normal), which I love when I wrap my hair after a wash. Also, it is supposed to be helpful for delicate skin that may easily irritate. My daughter has eczema, and we really try to keep it calm and unflared. If this towel can help with that, the better!I also noticed a few other reviews stating the towel was also used as a blanket. Totally doable, and I think I will do the same as well. It is perfect for those times when a muslin swaddle blanket is too thin, but another blanket is too thick. I can see using it to cover my daughter up at the beach should she end of taking a nap. Perfect to keep the breeze at bay yet light enough so she doesnt get hot. Did I mention how BIG this is? I took a photo of it drapped over one of my chairs. It is the perfect size! Maybe a bit big for an infant, but it's perfect for my toddler. 43 inches x 45 inches.So overall I am pretty estatic with this purchase, and would like to get another. If you are thinking about purchasing this, just do it, I am sure you will love it as much as everyone else who has it. If this review has been helpful to you in any way, kindly scroll over to the right and click Yes. If I know my reviews are answering questions a consumer may have, or providng additional information, then I will continue to be as detailed as possible. Many thanks, and if you do happen to purchase this product, I hope you enjoy it as much as I do.

June 4, 2016

This is a 6-ply muslin blanket/towel. I have a couple single layer muslin blankets that were amazing to have with my baby. I used them as blankets, car seat covers, nursing covers, swaddling, etc. However because they were only one layer they were never used as anything but blankets. This one is smaller in size than the other muslin blankets that I have, and seems to be a thicker muslin as well. While it came out of the package pretty soft, having experience with muslin from the other blankets, I washed this a few times before using to get it even softer. It fluffs up quite nicely in the drier. It's a great size for a snuggle blanket, or as a lap blanket in a stroller. We tried it tonight as a towel to see how it worked in that capacity, and it was great. It absorbed the water well, and I loved knowing how soft it was on my son's skin. He's around 29" tall and about 20lbs (14 months) and it was a good size for a towel. Not too big, not too small. You can tell that this is made from high quality materials, and that it will last for quite awhile. It's an awesome product at an awesome price, and I highly recommend it, even if you already have some regular muslin blankets. This one offers a versatility that isn't found in single layer muslin blankets.

October 19, 2015

This is by far the best towel.. It's very large, so baby will not grow out if it like other towels. I highly recommend this product.

December 12, 2015
A newborn baby is still very vulnerable to infection and disease, so it is recommended that you invest in some rubbing alcohol and use it to clean the umbilical cord area. Use a cotton ball to dab the alcohol gently around the area. Don't use too much because it's a potent chemical formula. Dry off any excess using a clean cotton ball. It is only used to make sure the area is bacteria-free.

You might also want to use baby powder. When you towel-dry a baby, there is still a bit of moisture to the skin which can cause chafing and rashes when the baby is dressed. Baby powder is soft, smells wonderful, and gets rid of any residual moisture, so your baby is nice and dry.
Product
Deals
Photos
Last reviews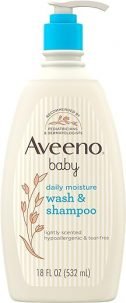 Aveeno
Gently cleanse your baby's skin and hair with AVEENO Baby Wash
amazon.com

Last price update: 2023-10-04 04:17:17
Back in my home country, after my son was born, we started using Johnson and Johnson baby wash. We did not get this brand there. But he developed red spots and such on his skin due to that. So doctor there suggested to use a mild shampoo and other things like Lotion and such. They recommended Sebamed products which were imported from Germany and hence also very expensive. A 8 oz bottle of wash was like $9 (yes that is crazy expensive in my home country currency) when you could get Johnson and Johnson etc for under $2. We went ahead and started using sebamed everything from body wash to lotion to shampoo and even diaper rash cream.Then we came to US and initially I got sebamed here as well. But then we read about Aveeno and though this is also expensive compared to equate and other such brands, but still cheaper than sebamed and availability was plenty at walmart, kroger and such. So we tried this and this things also works very well for my son and he seem to have no problems with it.I suggest doing a subscribe and save on amazon for this product and would recommend to any parent here for their babies.
June 24, 2015
As a first time mom, I only knew about Johnson & Johnson products. So naturally, my initial instinct was to use the Johnson & Johnson baby products I received during my baby shower. I wasn't impressed. My second son didn't respond well to their products and seemed to get a mild rash every time we used it. After some research, we decided to give Aveeno a try. We absolutely loved it. Aveeno has a mild scent and is gentle on his skin. Two years later, I am still using Aveeno products on my son and now on my newborn daughter. It's so gentle, I even use it on my own skin 🙂 love the way it cleanses my face. Here's another little plus...great to wash makeup brushes with!!!
February 11, 2016
I don't recommend at all. Gave my non sensitive baby a red rash and the twin with bad eczema became worse I feel horrible for not knowing but I heard aveeno is a good brand for babies with eczema I heard wrong. Please don't buy
May 8, 2016
Baby skin care: When can you put lotion on your baby's skin?
Getting the Bath Ready
Baby bathtubs are a good way of bathing your baby when you start off because they're much easier to manage. Standard, full-sized tubs are too big and deep for bathing a newborn. Most of the baby tubs available on the market are designed to support the head and neck of the newborn baby. They often have slings or mats included to ensure that the baby doesn't slip around or become completely submerged in the water.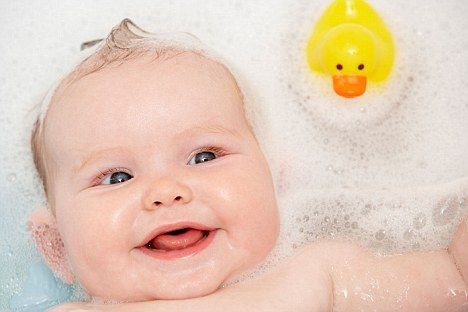 If you don't have a baby tub, you can use the kitchen sink instead. Make sure your baby's head is as far away from the faucet as possible, so they don't injure themselves. If you decide on the sink, clean it beforehand as it could still have greasy residue on it from washing dishes. If you use any chemical cleaners to clean it, rinse the sink well in hot water before filling the bath for your baby because you don't want cleaning chemicals mixed in with your baby's bath-water.
Once the tub is ready, or the sink is clean depending on what you decide, fill it with luke-warm water. One of the most important steps to remember when you bathe your newborn is to make sure the water isn't hot to the touch. Test the temperature with your hand. If it comes out red, it's too hot. Also, ensure that you don't fill the sink or tub too much; a couple of inches high will suffice. It doesn't have to be high enough to reach your baby's neck. It should be somewhere between the bottom of their belly button to the mid-chest area.
Next, place the baby in the tub. Again it should be mentioned that it is imperative not to submerge the baby in the water completely. Even at neck level is still too high. If you overfill the tub or sink, take the baby out and drain out some of the bathwater just to be safe.
As your child gets bigger, the water level you require will change. However, for a newborn bath, it's best to be as safe as possible as a baby at this young, tender age is very vulnerable.
Parenting tip: Can you Breastfeed with Nipple Piercings?
How to give your newborn a sponge bath
Lower your baby carefully into the tub, ensuring to support his or her head and neck with your hand as you do so. Use one hand to support and steady the baby, and the other to wash him or her.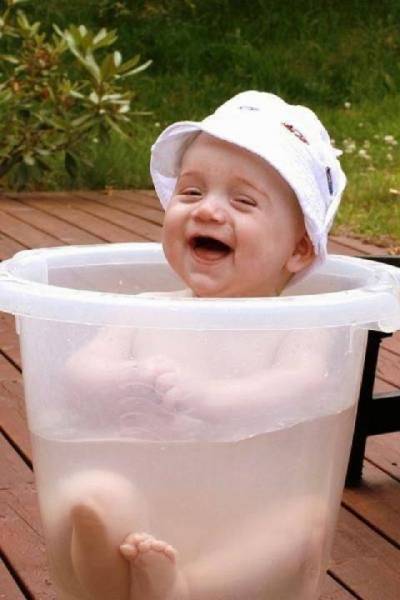 Do you know how teaching babies to walk?
Take the mug mentioned above and dip it into the luke-warm water. Pour it slowly and carefully over the baby. This is the stage where you're moistening their skin before you apply the cleansing product. Applying anything soapy to dry skin will irritate it: never do this anytime you

bathe your newborn

. Rub the water gently all around the baby's body with your free hand so that every inch of skin is moist.

There is no need to scrub a baby. Be gentle and tender when you are washing them. Use one of the washcloths mentioned above. Put a small amount of baby soap onto it. Rub it in until you see some suds, then carefully clean your newborn with the soapy cloth. Make sure the cloth isn't old and rough. A soft cloth will be gentler to your baby's sensitive skin. Also, ensure that you clean very carefully around any crevices such as fingers and toes. Be as gentle as you possibly can.

Using the mug again, pour it gently and carefully in order to rinse off the soap. Make sure you rinse the baby thoroughly. Soap residue will make the baby uncomfortable and can damage their skin.

Finally, after

bathing your baby

, wrap them in a soft dry towel. Don't rub the towel to dry them: pat them dry. This is much gentler on their skin. It's okay to cuddle them all wrapped up in the towel for a few minutes while they dry off almost completely.
Then, use the other products mentioned above in the following order:
Dab rubbing alcohol around their umbilical cord with one cotton ball, then pat the solution dry with another clean one.
Dust some baby powder onto your hand and rub it gently over the newborn. Focus on areas which are still a bit damp after being towel-dried. Don't over-do it. A lot of baby powders have fragrances in them. Using too much might trigger a skin irritation. Be careful when you're dusting it onto your hand too because baby powder tends to come out of the container too fast and you're left with white powder flying around everywhere!
Product
Deals
Photos
Last reviews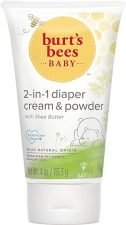 Burt's Bees
Burt's Bees Baby Bee Cream-to-Powder Diaper Cream and Powder goes on smooth as cream and dries quickly to a soft powdery finish. This 2-in-1 diaper cream and baby powder is designed to help absorb ...
amazon.com
Last price update: 2023-10-03 20:07:19
This creme changed! It now comes whith some sort of oil which seeps out of the container, you have to shake/mix it very well before using or you get lots of oil and no powder or too much dry powder that cakes. It does not work well with diaper rashes, the oil or watery consistency does not dry quickly and stings. What happened with the old formula?! It worked wonders. I thought i had ordered the diaper rash creme/powder but this is not it and apparently this replaced the good one!I still like it better than regular petroleum based diaper ointments but feel like ive been ripped off bc its not the same as it used to be. It even comes in a larger bottle, now it is 4oz, the better one was 3oz.
March 9, 2017
I was looking for something all natural for my baby, instead of using a powder after changing and this seem to fit the bill. However, this really has to be shaken up alot and still somedays alot of oil that comes out before any cream does. So the oil ingredients separate from the cream layer and it makes it messy. I wish the product had a better emulsion, or came in a jar that can be stirred or something. I bought this in March, so its not hot here yet, so I don't think that added to the oil layer separating. On the plus side, I love the scent.
May 27, 2016
I originally purchased this product by mistake. My son was born 2 months early and was in the NICU. He had developed a diaper rash after about 2 weeks and the nurses were using Destin which was the only diaper cream selection provided by the hospital. It wasn't working and the rash was getting worse. They let me know I could provide any cream/ointment I wanted to for my little babe and several of them suggested the Burt's Bees Diaper Ointment. (As I quickly learned getting advice about a baby product from the NICU nurse was like a master class in baby care.) Being a sleep deprived new NICU mom I ran over to the nearest Target and grabbed the Burt's Bees Diaper Cream & Powder not realizing this is different from the Burt's Bees Diaper Ointment. At the time it was a rather new product to their baby offerings. I took it back to the NICU and started using it. It immediately helped clear up the rash and became the new favorite cream of the NICU nurses because it is easy to apply, thin and dries quickly. During my son's tenure in the hospital I ended up purchasing several tubes for other NICU moms and it helped all of their babes rashes.While it cleared up his rash in the NICU, over the past 5 months I have experimented with several different creams and ointments including Burt's Bees Diaper Ointment, Desitin, A&D, Butt Paste, Honest Diaper Cream and Aquaphor. The Burt's Bees Diaper Cream & Powder is still by far my favorite and works the best on my little guy for preventing rash. I love the pleasant fresh baby powder smell. I find the Burt's Bees Diaper Ointment lavender smell to be very overpowering and the Butt Paste/Desitn both smell like feet. The best analogy I can use for this cream verses other thicker creams/ointments is that this is more like a nice car wax. If you apply it at every diaper change it will keep your car looking nice and the rash away. If your car (baby's bottom) is already scratched or damaged (sores or rash) then you need to get a whole new paint job. Preventative maintenance will no longer help and a thicker more healing cream or ointment may work better to clear up the rash. I would recommend the Honest Organic Healing Balm (not sold on Amazon) for healing rash and sores that are already existing. On the very rare occasions my babe does start to develop a slight rash I immediately use the Honest Organic Healing Balm and top with the Burt's Bees Diaper Cream & Powder. The one two punch is the perfect combo for him.Pros- thin cream- dries quickly- pleasant baby powder smell that is not overpowering- great for prevention of rashCons- white powder residue can rub on dark colored clothing- oil and cream separate as you get towards the bottom of the tubeWhile no diaper cream is the holy grail the best prevention, as all moms know, is frequent diaper changes and keeping those bums clean & dry.
January 8, 2015
Then, gently comb your baby's hair. Baby hair is very fine, so it might be nearly dry just a few minutes after the bath.
Finally, get the baby dressed and ready in the way you normally do. You're now ready to go and show off your beautifully clean baby to all your friends!
Bonus: Top baby boy bathing suits on Amazon
Bonus: Top baby girl bathing suits on Amazon